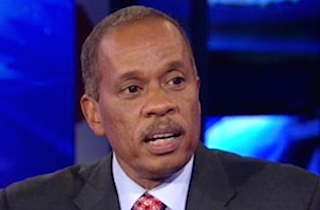 Juan Williams may be one of Fox News' left-leaning commentators, but that did not stop him from calling out the "white liberal hypocrisy" of Sony Pictures co-chair Amy Pascal and producer Scott Rudin for their racially-insensitive email chain about President Barack Obama that leaked this week following the massive cyber-attack on the Hollywood studio.
"White conservatives are always on defense against charges of hating President Obama because he is black; suppressing minority voters and indifference to the difficulty minorities have living everyday with the legacy of slavery and a culture filled with stereotypes of black inferiority," Williams wrote in a FoxNews.com column Saturday. "This week white conservatives can take a break, step out of the dock and make way for white liberals."
The comments in question revolved around the president's supposed movie preferences, with Pascal and Rudin joking about Django Unchained, 12 Years a Slave and other African-American-centric films. Both of them issued apologies to the president and anyone else who was offended by what was intended as a private conversation.
"Where to begin unpacking that powder keg of race and class bigotry?" Williams asked of the emails. He wondered how it was possible for Pascal and Rudin to "think that a 53-year-old, Harvard trained constitutional lawyer who is now president of the United States, is to be solely defined by his race?"
"Pascal and Rudin, on their way to meet the president at a Democratic fundraiser, have no hesitation about painting Obama into this limited, one-dimensional personality," he wrote. "What they have revealed is how demeaning and patronizing their liberal minds can be even when the man is the leader of the nation."
While there is no real doubt that Pascal and Rudin were being thoughtless with their jokes about Obama, it is not as if they truly thought the president only cares about "black" movies. What they were doing was making easy jokes about Obama's race — jokes that frankly, were just not very funny.
[Photo via screengrab]
— —
>> Follow Matt Wilstein (@TheMattWilstein) on Twitter
Have a tip we should know? tips@mediaite.com