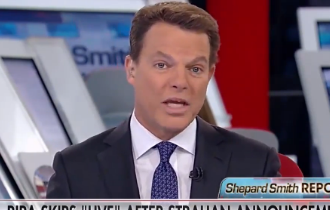 Today, we brought you the news that Kelly Ripa simply declined to show up to work today at Live With Kelly and Michael because she was so blindsided by her co-host, Michael Strahan, leaving. Over at Fox News, though, Shep Smith also brought the news, but in a slightly different way.
Something tells us that Ol' Shep is the office gossip, because when cutting to commercial breaks before airing this segment, he kept referring gleefully to drama in the "House of the Mouse." This was a crafted, humorous report. The man was into it.
If his wordplay wasn't evidence enough that Smith was all in for this gossip, consider this: he cited TMZ during his report. Moreover, he made references to Ripa's Twitter account. Social media is a lightning rod for salacious stories and not using it says just as much as using it does sometimes, which he, a gossip hound, definitely knows. Here, check out what Smith said:
Kelly's not tweeted or spoken publicly of any of this! None of the "good luck"s or "gonna miss you"s or any of the stuff you'd expect to see… if there's no drama!
Seriously, watch that part. It's about 45 seconds in. I'll wait.
Okay, you back? Let's move on.
Smith then threw it to the host of Media Buzz, Howard Kurtz, who used an elaborate analogy that likened this situation to a messy, public divorce. Ripa was the jilted spouse who kept it together after her husband threw the opportunities she gave him back in his face, but it all came out one night at a party and now everyone knows.
Kurtz went on to divulge that he's heard that ABC brass want to oust Ripa altogether and expand Strahan's new home, Good Morning America, into a full three hours. Then, Kurtz returned to his extended metaphor, saying, "When you have a divorce, both parties are supposed to show up in court and then smile for the cameras."
[image via screengrab]
For more from Lindsey, follow her on Twitter.
Have a tip we should know? tips@mediaite.com