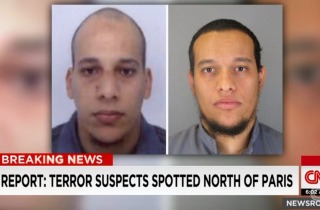 The bodies of the three terrorists in last week's attack are lying somewhere in a Paris morgue, unclaimed, and no one really knows what to do with them.
French authorities hope to prevent the burials of Cherif and Said Kouachi, as well as their accomplice Amedy Coulibaly, from becoming shrines for terrorists and Islamic extremists, but French law — as well as Islamic burial customs — has presented a new set of complications.
Because apart from the fact that French law requires that citizens must be buried in the town where they resided or were killed, no one has claimed their bodies — not their relatives, nor the French government. And it's probably because they really do not want their bodies, according to the New York Times:
"If I'm asked to bury Saïd Kouachi, I will refuse categorically," said Arnaud Robinet, the mayor of Reims, the city in northeastern France where Mr. Kouachi, the elder of the two brothers, had settled several years ago. "I don't want a grave in Reims to become a place of prayer and contemplation for some fanatics."

Mr. Robinet said that he had not received any formal request from the government to bury Mr. Kouachi in Reims, where he lived with his wife and their 2-year-old son, but that he had heard that an undertaker had been contacted about a possible burial.

Cemeteries are "a place of peace," Mr. Robinet added. "I don't want them to become a place of hatred."
A similar concern arose after the death of Osama bin Laden, which drew outcry after the US gave the terrorists a burial at sea, against Islamic tradition, to avoid his burial site becoming a shrine.
[h/t Gawker]
[Image via CNN/Screenshot]
—
>> Follow Tina Nguyen (@Tina_Nguyen) on Twitter
Have a tip we should know? tips@mediaite.com