Frustrated By Their Own Success, GOP Prepares To Reignite 'War On Women' With Abortion Legislation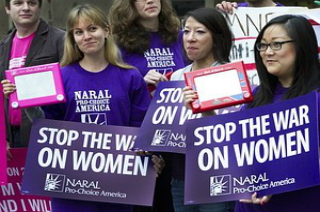 Seemingly unable to "overplay their hand" as President Barack Obama's White House is overwhelmed by an ever-expanding list of scandals and controversies, the House GOP appears prepared to simply fold.
The GOP has put Democrats on defense on issues like the Department of Justice's targeting of journalists and the Internal Revenue Service's targeting of conservatives. Some Republicans have even, shockingly, formed a nascent coalition with congressional liberals in the effort to make the administration answer for the National Security Agency's sweeping tracking of Americans' communications. These successes were, apparently, so unnatural and uncomfortable for the House GOP that they have opted to return to the status quo of being caricatured by Democrats and in the press as sex-obsessed, antediluvian brutes.

On Wednesday, the Republican-led House Judiciary Committee passed a measure which would ban abortions after 20 weeks into a pregnancy. The present maximum period at which point a woman cannot seek an abortion is 24 weeks.
The committee rejected two Democratic amendments to the ban which would have allowed for exemptions in cases of rape or incest. And, if all this 2012 nostalgia wasn't enough already, we even have an insensitive quote from the bill's sponsor, Rep. Trent Franks (R-AZ), on the "very low" likelihood that a rape will result in a pregnancy.
The bill will head to the House floor next week where it will be debated and, of course, picked up by the political press as a desperately needed distraction from the recent cascade of stories unfavorable to the White House.
The measure is expected to pass the House after a contentious debate where it will die in the Democrat-controlled Senate.
The political motivation behind this legislative push is difficult to pin down. Much like the regular House efforts to repeal the Affordable Care Act, it is possible that House Republicans simply want to be on record with a vote against later term abortions.
Of course, there are medical and moral reasons to support this legislation. Experts have testified that 20 weeks is the point at which a fetus can begin to feel pain. And the anti-abortion activists may find comfort in the fact that polls clearly show that the public is growing increasingly uncomfortable with the concept of abortion on demand.
Abortion after 20 weeks is a distasteful practice and an unacceptable form of birth control. But, just as an intentionally obtuse media implied that transvaginal ultrasound tests were essentially synonymous with forced penetration (when ultrasounds are a medical necessity to ensure an abortion procedure is both safe and effective), the media will use this legislation to reignite the flames fueling the 2012 election year "war on women" meme — a meme which helped lead to the largest gender gap in American electoral history.
This attack on the GOP is baseless and cynical, but it's also effective politics. Democrats know how to play this game. They have demonstrated on more than a handful of occasions that they can make Republicans play defense on abortion rights issues. Republicans appear willing to sacrifice their hard-won present political advantage by pursuing legislation which will never become law. But when so many more important issues are being debated in the public square, issues which favor the Republican position, why give Democrats ammunition to scuttle that debate?
> >Follow Noah Rothman (@NoahCRothman) on Twitter
Have a tip we should know? tips@mediaite.com