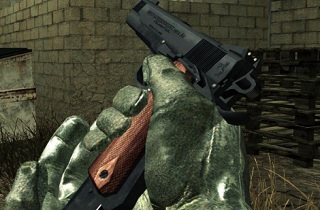 Even though the intensity around gun regulation has cooled among the media, and in Washington, groups like Moms Demand Action and The Gun Truth Project are doing what they can to take the fight into the private sector. On the heels of video game maker Electronic Arts' announcement that they would end licensing agreements with gun manufacturers, the groups are urging other game companies to follow suit, and stop paid brand-name gun product placement in their games. The push includes a report entitled "Game Over: Resetting The Relationship Between Video Game And Gun Manufacturers," which details the way guns are promoted in video games. The groups have timed the release of their report to coincide with the Electronic Entertainment Expo (E3), the gaming industry's largest conference, which kicked off on Tuesday. You might remember Mons Demand Action from their March showdown with armed counter-protesters in Indianapolis.
From the group's press release:
"We are outraged that video game companies and gun manufacturers are entering into deals to market guns to our children, particularly given the real-life epidemic of gun violence in America," said Shannon Watts, founder of Moms Demand Action for Gun Sense in America.

The report demonstrates that licensing deals between video game companies and gun manufacturers are specifically aimed at increasing the visibility of firearms. One gun industry representative cited in the report even brags that video games provide an opportunity to promote to children, "who are considered possible future owners."

However, the report shows that these promotional deals are actually not profitable for video game manufacturers. In fact, games featuring real-world guns identified by make and model do not sell any better than games with made-up weapon names. According to the report, the economic benefit is almost exclusively on the gun manufacturers' side.
Watts went on to praise Electronic Arts for terminating its licensing agreements, but the company isn't exactly done. The company ended licensing agreements, but as Reuters reported, "simultaneously assert(ed) that it has the right, and the intention, to continue to feature branded guns without a license."
The decision to drop the licensing was prompted by one specific promotion, in which EA included links to the IRL versions of guns used in "Medal of Honor," because of backlash from EA customers:
"We won't do that again," said Brown. "The action games we will release this year will not include licensed images of weapons."

EA said politics and NRA comments critical of game makers had nothing to do with its decision. "The response from our audience was pretty clear: they feel the comments from the NRA were a simple attempt to change the subject," (EA spokesman Jeff) Brown said.

EA also says video game makers can have branded guns in their games without getting licenses, meaning the industry could drop the gun companies and keep their guns.
The "Game Over" report notes that, as we have reported here, there has been no scientific link established between video games and gun violence, but does suggest a relationship between games featuring real-life weapons, and tragic mass shootings:
By entering into financial, promotional or legal relationships with gun manufacturers and featuring their weapons, video game publishers are going beyond entertainment. They are blurring the line between fiction and reality in ways that can have tragic consequences.

Anders Behring Breivik, who shot and killed 69 people and detonated a bomb that killed eight others in Norway in 2011, said he improved his marksmanship by playing Call of Duty.

Adam Lanza was also reportedly an avid player of that game, which features a number of rifles made by Bushmaster. Lanza later used a Bushmaster .233 caliber to kill 26 people, including 20 elementary school children, in Newtown, Connecticut.

To be clear, violent video games were not the cause of either of these tragedies. But one can certainly see the link between the promotion of actual, real life weapons in video games and the way in which the shootings were carried out. For the sake of public safety, and the safety of their customers, the makers of these games should not enter into deals that connect fantasy to reality, promote the gun industry and spark ideas in the heads of individuals inclined to mass violence.
The "fiction to reality" angle is new, but I'm skeptical of drawing this kind of link. Far more compelling, though, is the common-sense idea that marketing real guns to children is a bad idea, and not something that video game companies ought to do. The report goes on to name names of the game makers who use real-life guns in their games, the idea being to turn that feature into a bug, to make it bad for business. Activision, Rockstar Games, Tripwire Interactive, Valve Corporation, Overkill Software, Take-Two Interactive Software, and Treyarch are all named in the report.
Even though video games are protected by the First Amendment, game companies and retailers have been very responsive to parents' concerns, adhering to a strict ratings system that is well-enforced. If they have more to lose than to gain by promoting gun manufacturers, game companies are likely to respond similarly here, as well.
Have a tip we should know? tips@mediaite.com