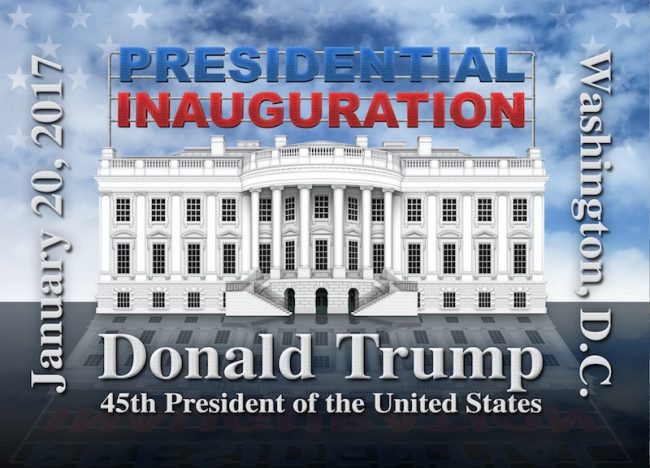 The stages are built, the speakers are installed, and the bunting is hung. Now all that's left are the many, many people.
The Inauguration of President Donald J. Trump will take place on Friday, January 20th as part of a long celebratory weekend to usher in the start of the new administration. It marks the 58th inauguration ceremony in our nation's history, and is expected to draw a high volume of supporters and protestors alike.
Here's the full calendar of the most anticipated day-by-day events.
THURSDAY, JANUARY 19
Wreath-Laying Ceremony
Arlington National Cemetery
Time TBD
The incoming President and VP will lay a wreath in honor of our armed forces.
Welcome Concert Celebration
Lincoln Memorial
The incoming administration touts the event that will, "combine a diverse group of performers and is the official kick-off to the inaugural events." President-elect Trump is expected to make an appearance.
FRIDAY, JANUARY 20
Inaugural Swearing-In Ceremony
West Front of the U.S. Capitol Building
The ceremony kicks off at 9:30 a.m. EST with music and performances by the Mormon Tabernacle Choir will perform along with Jackie Evancho and the Radio City Rockettes.
The opening remarks will begin at 11:30 a.m. and will feature New York Archbishop Timothy Dolan. Supreme Court Chief Justice John Roberts will swear in Donald Trump at noon; Former Secretary of State Hillary Clinton has announced that she will be in attendance alongside Presidents Bill Clinton and George W. Bush, as will members of Congress.
Inaugural Parade
At the conclusion of the Swearing-In ceremony, President Trump, Vice President Mike Pence, and their families will walk up Pennsylvania Avenue from the Capitol Building to the White House. Thousands of high school band members, as well as motorcyclists and military members, will also march as part of the historic parade.
Inaugural Ball
Although there are many balls around town, there is only one official Inaugural Ball, which the newly sworn President will attend. This year's theme is the Big Apple, an open homage to the President's hometown. It is a black tie event at the Walter E. Washington Convention Center.
SATURDAY, JANUARY 21
Women's March on Washington
10:00 a.m. EST
Independence Avenue & Third St SW
The largest congregation of protestors — women and men alike — will come in the form of the Women's March on Washington, set to begin Saturday morning. "We work peacefully while recognizing there is no true peace without justice and equity for all," reads the group's site.
The U.S. Secret Service released a map of the planned restricted areas and road closures during the inauguration.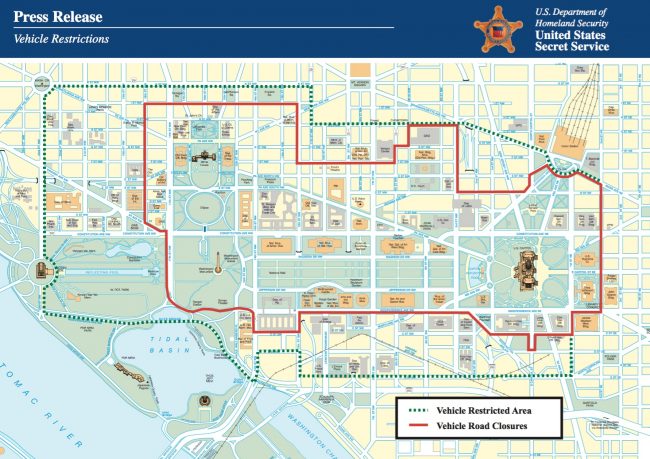 Have a tip we should know? tips@mediaite.com