GA Official to Be Publicly Reprimanded for Calling Rep. John Lewis a 'Racist Pig'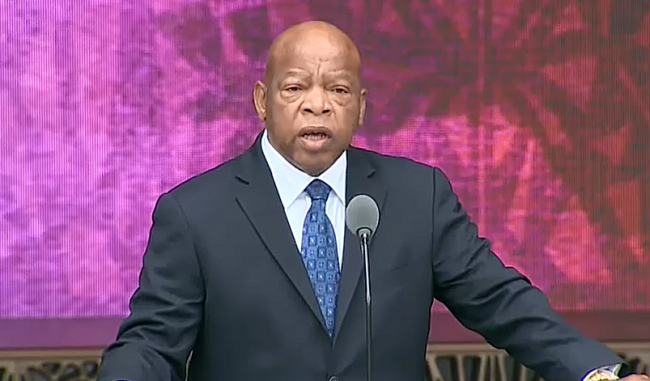 On Tuesday night, commissioners in the suburban Atlanta county of Gwinnett voted to publicly reprimand a colleague for calling civil-rights-hero-turned race-baiting-Congressman, John Lewis, a "racist pig," according to the Atlanta Journal-Constitution.
The county ethics board voted earlier this month to follow through with the ethics complaint against Commissioner Tommy Hunter, who faced criticism after making the accusation against Rep. Lewis on Facebook.
Atlanta resident Nancie Turner filed the complaint in early Feb of this year. The complaint argued that Mr. Hunter's social media posts were in violation of the county's ethics rules.
Hunter has also allegedly used social media to call Democrats "Demoncrats" and "libtards".
It is unclear whether Hunter was referring to a specific incident or just the history of John Lewis being prone to making racially charged statements and accusations.
In the past Mr. Lewis has compared Donald Trump to George Wallace, accused John McCain and Sarah Palin of racism, claimed that Tea Party activists called him the N-word, and even claimed that Republicans want to take the country back to the days of Jim Crow.
Per the Atlanta Journal-Constitution:
A public reprimand was the stiffest possible penalty available under Gwinnett's ethics ordinance. It will involve posting a written rebuke on the county's website, on the wall of the courthouse and in the local newspaper.
Fox 5 Atlanta's report features this statement from a Hunter spokesperson:
"We now know that mob rule controls the Gwinnett County Commission Board. Charlotte Nash led her fellow board members in the public burning of the Constitution this evening. People are used to politicians caving to political correctness but tonight it reached a new level. Spineless politicians do spineless things. Where is the public reprimand for Charlotte Hall Nash, John Heard, Jace Brooks, and Lynette Howard for their public disregard for the US Constitution? Speaking of, where do I file the ethics complaint to get the process started?"
[image via screengrab]
Have a tip we should know? [email protected]