Gaga, Elton, Sting, Springsteen & Others Sing "Don't Stop Believin'" At Carnegie Hall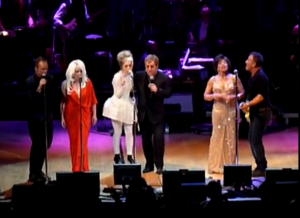 Here's a shaky, hand-held YouTube video shot from an upper balcony at Carnegie Hall that demonstrates perfectly why shaky, hand-held YouTube videos have a place in our media ecosystem: Lady Gaga, Elton John, Sting, Bruce Springsteen, Shirley Bassey, Debbie Harry and random dancing boys in speedos singing "Don't Stop Believin'" at Thursday's annual benefit concert for the Rainforest Fund.
YouTube user WayTooCoolForSchool captured this amazing collection of people giving the Journey classic – and recent über-cover song – their distinctive treatment, even though Sting incredibly somehow didn't know it (am I wrong or is that so Sting?). Apparently Springsteen made the suggestion (and am I wrong, but is that so Bruce?) but that wasn't the shows only highlight: there was Elton John singing "Material Girl" and "Like A Virgin" with the above-mentioned bevy of near-naked dancing boys, and Gaga and Sting singing "Stand By Me" — both of which WayTooCoolForSchool's camera captured beautifully. The cinematography is atrocious, but adorable — it's the mark of someone having too good a time to be distracted by little things like shooting straight (from WayTooCoolForSchool's caption: "This is actually video of the best moments of my life. SO FANTASTIC. The dancing boys. I can't take it"). But the sound is terrific, and the crowd makes it even better. The surprise delight of my day. And yours too, when you watch – and listen. And give to the rainforest!!
Here's the video:


…and here's Elton's take on "Like A Virgin," which offers an alternate answer to the age-old question, "How do you get to Carnegie Hall?" ("Practice, practice, practice" but also "Be incredibly hot and muscular and look fantastic in a tiny Speedo").


…and here is Gaga and Sting doing "Stand By Me" – the sound is incredible, especially the final notes – chills! Anyone who doubts that Lady Gaga got where she is on a strong, implacable base of talent just needs to watch this video to know that she's got the chops and then some. Ain't no accident that I put her name first in the headline. (But also – I would love to have seen some sort of Gaga-Springsteen duet. THUNDER ROAD. I got chills just thinking of it. Gaga, Bruce, make it happen.)


If only, however, WTCFS had also grabbed this (per Jon Pareles, NYT):
And when Ms. Bassey sang "Big Spender," shaking to show off her fringed black dress, Mr. John and Sting flanked her in semi-drag: Mr. John flaunting a boa, and Sting wearing a flowered hat, dangling earrings and a glittery necklace.
…and this:
The concert's unannounced performer, Bruce Springsteen…turned a jovial, well-intentioned evening into a flat-out rock concert. He cued audience shout-alongs in his 1984 hit "Dancing in the Dark" and gamely chose a 1980s hit: Bryan Adams's "Cuts Like a Knife," from 1983.
Showtunes and Canadiana – someone please find those videos stat!!!!
Update: Oh thank the Lord, there's a slideshow. God bless you, NYT. Cue Sting in drag: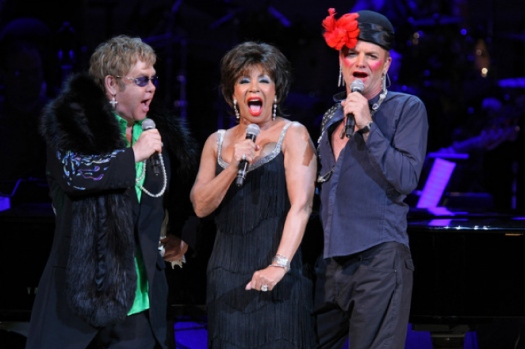 BTDubs, NYT – why do you have all this fabulous coverage of this fabulous event, but I need to go to YouTube for the video? There's a place in the media ecosystem for the shaky, handheld amateur YouTube video, but there's also a place for the gorgeous professional version posted by the national newspaper who could watch it go viral and then allocate revenue from those pageviews toward, say, the Baghdad bureau. I'm just sayin'.
Update II: Lady Gaga just tweeted the vids: "I've never been happier."
Stars Sing to Save Rain Forests (and Maybe Redeem the '80s, Too) [NYT] (via HuffPo)
The Rainforest Fund [Rainforest Fund]
Have a tip we should know? tips@mediaite.com