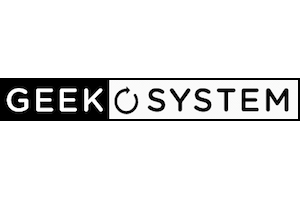 With the introduction of new geek culture website Geekosystem, the newest site launched by Mediaite founder Dan Abrams, the Internet just became both geekier and cooler at the same time. Edited by long-time Mediaite contributor Robert Quigley, Geekosystem aims to celebrate and cover everything from technology and science fiction to video games and comics. The site launched with a Power Grid ranking of 30 Greatest Living Web Geeks, a post on the steady sales of Tiger Woods' video games, and a smart piece on fighting email spam with…spam-like botnets.
As we said last week, Geekosystem will delve into geek culture with reports and analysis on the myriad aspects of geekdom: from gadgets and video games to comic books and science fiction. The site will merge the content aggregation of popular web culture destinations with the editorial voice of the post-Web 2.0 generation of geek luminaries.
Editor Robert Quigley introduces the site and describes its mission:
As of this morning, Geekosystem is live. The servers are serving, the URLs are uniformly locating their resources, the arcology is under its neat little dome and stocked with birds, fish, and fresh water, and there are a bunch of well-oiled, steampunky gears and clocks spinning around and doing something cool. But what does this machine do?

Our goal is nothing less than to unite all of the tribes of geekdom under one common banner. The truth of the matter is, there's a lot of overlap between the different families of geekery. The geeks who are into gadgets and computers are often the same as the geeks who are into comics and sci-fi are often the same as the geeks who are fueling the culture of the Web, one forum or imageboard at a time. As the site's name suggests, Geekosystem recognizes and celebrates these interconnections and the often-overlooked personalities who hold it all together. Live together, die alone!

If you're like us, you probably already have a go-to gadget site. You might get your social news fix at a Reddit or a Digg or a Hacker News. You certainly know where you can find lulz-inducing videos and pictures and flowcharts. Geekosystem is not here to disrupt your diet of information, though we think you will find us a worthy and nutritious supplement.

In addition to our spiffy weekly Power Grid, which you can read more about via this FAQ, Geekosystem seeks to give you a unique kind of home and refuge. But we'll need your help. Above all, we want this to be a discussion and not a talking-down-to, and we want you to talk back, share your expertise, call us out when you think we are being dumb. We will be in the trenches of the comment sections with you. This is the stuff we love and obsess about, and we hope you will come along for the journey.

The Skynet's the limit.
The Skynet's the limit indeed. As TechCrunch points out "The site is already getting a vote of confidence from one of the biggest players in the tech space, Microsoft. The tech giant is going to be the exclusive advertiser (for Bing) on Geekosystem for a full two weeks".
Mediaite wishes only best of luck to our newest member of our growing family. Now go and check out the site.
Have a tip we should know? tips@mediaite.com