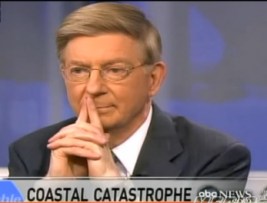 Here's a possible solution to the calamitous ratings slide happening over at CNN: hire George Will and Bill Maher to co-host some sort of prime time show. If today's This Week roundtable was any measure it would certainly be must-see TV.
Admittedly, it's a bit of an unlikely bromance, but it made for fiery, and I would argue, really good television this morning. George Will's uptight, removed demeanor is the perfect antidote to Maher's often hyperbolic pronouncements — just check out his stunned reaction when Will calls him on his Brazil oil assertion — and Maher manages to loosen Will up in a really appealing way (though Will mostly looked irritated to be subjected to so many unapologetic liberals). It was the kind of roundtable conversation you hope to see on Sunday morning — i.e. opposing views that don't devolve into talking points and/or a shout-fest — but rarely do. It didn't hurt that Rev. Al Sharpton, Katrina vanden Heuvel, and Matthew Dowd were also on the panel — a recipe for explosion if ever there were one. That said, it was two Maher-Will exchanges that caught my attention. Also, Tapper's reactions, which at times were priceless.
First, the discussion over the increasingly dreadful oil spill of the Louisiana coast. After assuring Tapper he would behave himself — "you're so nervous here" — Maher further criticized President Obama over the oil spill:
You know, he owns this issue now, because it was only a few weeks ago that he came out for offshore drilling. I would say philosophically this is a problem many on the left have had for many years…there is no one that represents out point of view…where is the other side on this? I could certainly criticize oil companies, and I could certainly criticize America in general for not attacking this in the 70's, I mean Brazil got off oil in the last 30 years.
Or did they? George Will circled back to this assertion a little bit later in the discussion, and did some fact-checking of his own, saying.
"I want to just get back to Bill. Can you just explain to me in what sense Brazil got off oil?"
Maher: "Uh." Turns out Bill (in a bit of a stumbling explanation) believes Brazil is off oil. Politifact is looking into it (Update: fact check results in). But such a great moment. So unusual to hear Bill Maher shut down without a significant decibel rise. Video of the entire first half of the roundtable below. [Cont'd]
The second exchange is a short one. But interesting how Maher feels the need to defend himself, and how Will is really just not having it (in really long words).
"Let me defend myself, because I have never said, and would never say, because it's not true, that Republicans, all Republicans are racist. That would be silly and wrong. But nowadays if you are racist, you are probably a Republican."
Cue Jake Tapper clearing his throat, changing the topic. Here's Will's response:
This is — this is synthetic hysteria by a herd of independent minds called our political class right now that has decided to stand up and worry about the Constitution being shredded by measures that have ample history of being sustained against constitutional challenges.
Tell me they would not make for good viewing on a regular basis. Video of the 'racist' exchange below.
Have a tip we should know? tips@mediaite.com