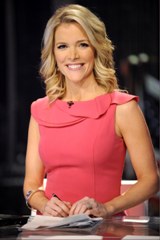 If it felt like Fox News anchor Megyn Kelly was everywhere in April, it's because she sort of was. Kelly's two-hour daytime news program America Live debuted February 1, and FNC used April to get out the word about their rising star.
Here's a look back on the month of Megyn.
While March saw an attack by Jon Stewart, April kept her in the news even more. We talked to Kelly April 6 about Stewart, Bill O'Reilly and more. Two weeks later it was a big day for the FNC host – who stopped by Howard Stern's radio show and later sat on The View couch. Next month she'll be featured in an FNC ad…with Glenn Beck.
Last week she did several more interviews, including with The Daily Beast – who asked if she was the "Barbara Walters of Fox News" (high praise):
For this versatility, Fox News senior vice president Michael Clemente compares Kelly to Barbara Walters. "She can do long, short, hard, soft, funny, in-between," he said. "She's a breakthrough." Her opportunities at Fox—at least as long as those Stern and Stewart clips keep coming—are, to his mind, limitless.
She talked about legal issues with the Fresno Bee, motherhood with MommyTracked.com ("managing the chaos of modern motherhood").
As has been hinted in various reports on her rise within FNC, all indications point to Kelly as a future prime time player at the network. This push into the public sphere, beyond the cable news junkies and Daily Show audience, only help cement her place as a star at Fox News, and news in general. Her neo-anchor style may not stick to the hard news-only model, but her politics can't be pegged as right-wing either. There is no greater show of her versatility than transitioning from Stern to The View in the span of a couple hours.
The Barbara Walters of Fox News? Maybe. But the style (hard-hitting interviews, passionate yet detached reporting) and push (everywhere, hard and soft) calls to mind another famous cable news anchor – CNN's Anderson Cooper. Maybe she could be Fox News' Anderson Cooper…with much better ratings.
—–
» Follow Steve Krakauer on Twitter
Have a tip we should know? tips@mediaite.com