Geraldo Rivera's infamous "nude selfie" is still causing him problems weeks later. The radio host and Fox News commentator has reportedly been uninvited from a planned appearance on a Duquesne University panel on the 50th anniversary of John F. Kennedy's assassination.
Rivera himself broke the news on his Twitter account over the weekend, calling out the university for caring more about his recent online activity than his historic role in the JFK assassination story.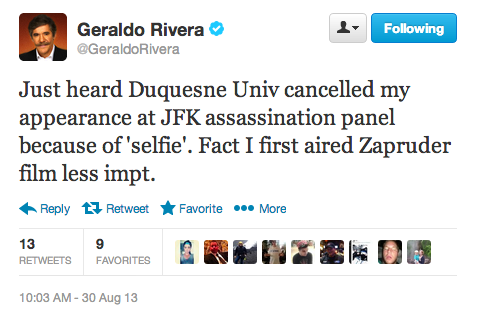 In a statement, Duquesne University spokeswoman Bridget Fare explained the decision:
"The administration felt that Mr. Rivera's decision to post a nearly naked picture of himself on social media was inappropriate and inconsistent with who we are as a Catholic university and therefore asked the Wecht Institute to withdraw the invitation. We warn our students not to put anything inappropriate on social media because of potential consequences — you could consider this teaching by example."
Rivera says he had agreed to speak at the university unpaid and is not taking the rebuff well. He sent the following statement to POLITICO:
"As a Catholic university, I hope the administration of Duquesne over that period was as diligent in condemning real outrage as it has been in censoring my appearance on the JFK panel because of a "nearly naked picture.

Are all prospective speakers similarly scrutinized or is my sin receiving special attention? Does the 'selfie' over-weigh my Peabody, Emmys, RFK's, and other professional achievements on Duquesne's scale of morality? Are the students of Duquesne so sensitive and protected that they will be unable to concentrate on the topic being discussed because they can not un-see the image?

Further, the process of cancellation was incredibly rude. I was informed last week by a stranger who introduced himself to me at a hotel bar, only to then tell me that he was on the JFK panel, but that it was too bad my appearance had been cancelled because of the offending tweet.

With the Pirates in contention for the World Series for the first time in a generation, this act by another Pittsburgh institution was incredibly Bush League."
Will Rivera ever be able to live this photo down?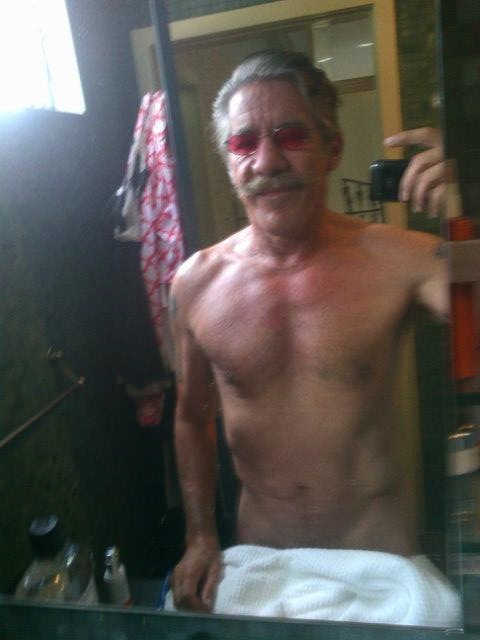 [photo via Twitter]
—
>> Follow Matt Wilstein (@TheMattWilstein) on Twitter
Have a tip we should know? tips@mediaite.com