Gerard Depardieu May Play Dominique Strauss-Kahn In Abel Ferrara-Directed Biopic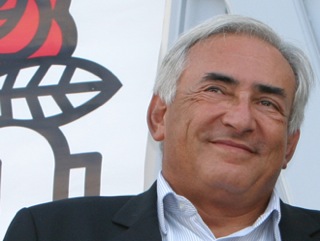 Former IMF head Dominique Strauss-Kahn probably had one of the worst 2011s in media, with the story of his alleged illegal indiscretions subsequently fizzling out after a dramatic arrest in New York. Now the tale may be showing up on the big screen, as reports surface that director Abel Ferrara is considering Gerard Depardieu for the role.
RELATED: Prosecution Files Motion To Drop Charges Against Dominique Strauss-Kahn
The New York Daily News is reporting that the film is not a certainty, but that the idea is certainly being considered.
"Bad Lieutenant" director Abel Ferrara is mulling a project that would bring the 62-year-old ex-IMF chief's story to the big screen, Deadline.com reported. Backed by the production house Wild Bunch, the film could star Gerard Depardieu as Strauss-Kahn, and Isabelle Adjani as his loyal wife, Anne Sinclair — though the project is not officially in development yet.

"Today, the only reality is that they are writing something inspired by Strauss-Kahn that will focus on addiction and politicians. It's more that than the Strauss-Kahn scandal itself," Vincent Maraval, head of Wild Bunch, told Deadline. "If it becomes a serious thing, I'm not even sure it will be the same film with Adjani and Depardieu." […]

When asked about the project by France's Le Journal Du Dimanche, Depardieu played the part of a politician himself and gave a non-answer.
"In general, I'm very good at playing characters that I don't like or those that I don't resemble," Depardieu told the newspaper.
So if it does happen, it doesn't sound like Depardieu will play his role with any particular sympathy. But if the screenplay does materialize and a film become a reality, the real question for Americans then becomes: if this political sex scandal tale directed by a film legend and starring the greatest (only?) actor in France, could it prompt renewed interest in a movie based on the other big sex scandal of the year: the Anthony Weiner story? Only time will tell.
Have a tip we should know? tips@mediaite.com