'Get the F*ck Out Of Here': Sen. Candidate's Aide Goes on Bizarre Rant Against Cory Booker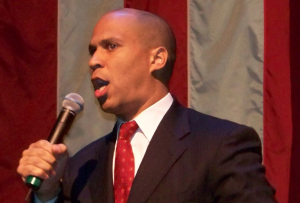 Despite being the Democratic candidate for Senate in a traditionally blue state, Newark Mayor Cory Booker's campaign has been a bumpy ride. There were gay rumors that began to swirl, controversy over his involvement in the start-up company Waywire, and, of course, the bizarre saga of the Twitter DMs he sent to Portland stripper Lynsie Lee. Well, now an aide for Booker's Republican rival has weighed in on the latter with what Talking Points Memo described as a "profanity-filled assessment of the race."
Rick Shaftan, a senior staffer and strategist for Steve Lonegan's campaign, was perhaps a bit too candid about his assessment of Booker as a person, firstly saying that the DMs Booker sent to Lee were "strange" and "like what a gay guy would say."
Shaftan then got a bit… raunchy, to put it mildly, about what Booker should have been saying to a stripper on Twitter.
"It was just weird. I mean, to me, you know, hey, if he said, 'Hey, you got really hot breasts man, I'd love to suck on them.' Then like, yeah, cool. But like, he didn't say that," Shaftan explained. "It was like kind of like, I don't know, it was like what a gay guy would say to a stripper. It's the way he was talking to her. It's just like like there was no sexual interest at all. I don't know. To me, if I was single and you know like some stripper was tweeting me, I might take advantage of the perks of the office, you know?"
The comments have some echoes of when Lonegan himself said it was 'weird" that Booker wouldn't refute the gay rumors and seemed to believe that gays aren't exactly "guys."
Shaftan plays fast and loose with the profanities in the (amazingly) on-the-record interview, and found it personally laughable that Booker never really noticed the topless pictures Lee shared on Twitter.
"This is strange. It's just weird. … It's like, 'I don't know who she is. I don't know anything about her.' Get the fuck out of here dude. You can't follow her Twitter page and not know she's got those great breasts. How do you fucking not know?" Shaftan said. "It's just too odd and people they just wonder, like, who does this guy really want to work for? Who's he representing?"
This is the second time this year that Talking Points Memo has interviewed a campaign staffer with a really loose mouth, following the infamous, epic Barbara Morgan rant against a former Anthony Weiner intern.
You can read the full interview here.
[photo via Bbsrock]
— —
Follow Josh Feldman on Twitter: @feldmaniac
Have a tip we should know? tips@mediaite.com
Josh Feldman - Senior Editor