Concha: Julie Banderas, S.E. Cupp Talk to Mediaite about the Growing On-Air Eyewear Trend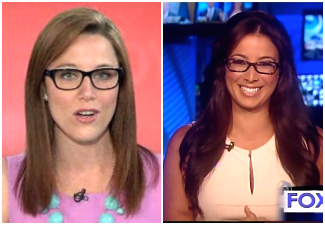 August has been an unusually chaotic month in the world of cable news. From Gaza to ISIS to Ferguson to the horrific execution of James Foley, a time usually reserved for vacations, backup anchors and fluffy human interest packages has all been put on hold by the very definition of tumultuous.
So in an effort to take a quick break from all the bad news and disturbing images, here's some light weekend fare to absorb for a few minutes instead.
So…have you noticed that many more female cable news anchors/hosts/personalities are wearing glasses on-air these days? The trend appears to have begun with one Ashleigh Banfield and her meteoric rise in 2001 (then of MSNBC and currently with CNN). Here's how New Canaan Darien Magazine described the coverage of Ms. Banfield's specs a few years ago:
The eyeglasses alone covered a remarkable range, from the admiring (she made the airwaves safe for bespectacled women) to the salacious (she looked like a naughty librarian) to the unduly critical (the glasses were a prop to make her seem brainier).
Since then, and it may be completely unrelated, it seems more and more women in TV are wearing eyeglasses. Some examples: Julie Banderas (periodically) on Fox Report Weekend. Kennedy on FBN's The Independents (she's always worn them back to her MTV days). Melissa Harris Perry and Mika Brzezinski (the latter not very often) on MSNBC. On CNN, S.E. Cupp (Crossfire), Carol Costello (CNN Newsroom) and the aforementioned Banfield all do it…and the list goes on for all networks when including contributors, analysts and regular guests as well.
So what kind of feedback do some of these anchors/hosts receive from viewers? I reached out directly to CNN, Fox and MSNBC to get some comments on the record. Given the aforementioned heavy vacation time and availability being a challenge as a result, going 2-for-3 in this regard ain't so bad.
Leading off is S.E. Cupp, who was first seen in this universe on Fox's Red Eye before moving to a full-time gig as co-host of The Cycle on MSNBC…before migrating to D.C. as a co-host of the new Crossfire (in addition to her duties for Glenn Beck's TheBlaze TV). The California native indicated that she's needed glasses ever since squinting for eight long years at small print as a copy editor (basically moving full length sports stories to abstracts and indexing them) while working at The New York Times.
Once her eyesight deteriorated, she decided to go right to glasses instead of contacts, and the reviews were decidedly positive. "It definitely got a good reaction, I'm not gonna lie," says Cupp. "That was something people in the Fox audience responded well to. And so I said, 'Great, this is fantastic. I can see, and this seems to be working for me," later adding, "I've never wore contacts, I've never even tried."
So why are we seeing women (and men) wearing glasses more on-air? "They've become a fashionable accessory," the Cornell grad explains. "It's not just in news…folks in Hollywood are doing the same thing. I'm sure some folks need them…and some folks don't need them at all…But I don't know if it has the desired effect on everyone."
Unlike Ms. Cupp, Julie Banderas only sports glasses once in awhile. But when she does, those who watch her–particularly men–seem to dig it.
@JulieBanderas @HappeningNow Wow love the glasses Julie very pretty:) Love your style!!

— Gary ricketts (@glricketts_gary) July 28, 2014
"I have always worn glasses off air, but the reason I started wearing them on TV was sort of a fluke," says Banderas, an Emerson College alum. "One morning while getting ready for work I ripped one of my contact lenses, so I asked my news director at the time if it was OK for me to wear my glasses that day. He said yes, we can try it this one time…In TV you can't drastically change your appearance without checking with the boss. From that day forward, he told me he loved the glasses look so much he wanted me to wear them on air every day."
So in the cases of Banderas and Cupp, neither are wearing them for show but out of necessity. As any exec in the business will tell you (particularly in an age of HD and huge screens magnifying every imperfection), TV news is a visual medium. The presentation does matter. And with being talented, credible, and attractive almost being prerequisites now (to the latter, if what we're seeing on our screens most of the time is any indication), the bar has somehow been raised to stand out as not only as aesthetically-pleasing, but uniquely aesthetically-pleasing.
To confirm this theory, I reached out to Jess Seilheimer, Chief Strategy Officer for MWW (a top marketing and PR agency), who says she's been nearsighted for as long as she can remember. Ms. Seilheimer had always worn contacts up until 2009, but found herself seeing better while wearing glasses.
The reaction from those around her, personally and professionally have been quite polarizing.
"There's definitely the sexy/smart thing that I've observed with some people; men who don't know me will often ask me, 'Why are you hiding those bright green eyes behind those glasses?' And I honestly rarely respond because it just doesn't warrant one.'
"People that know me understand why I'm wearing them," she explains. "They (glasses) say: 'Watch out- Jess brought her A-game to this workshop, she needs to focus for eight hours without getting a headache.'"
One goal (which unfortunately wasn't achieved) for this piece was to get comment on the topic from Rachel Maddow, MSNBC's highest-rated host. Why? Because Ms. Maddow's choice of when and where to sport her thick black frames has always been a mystery to me.
For those who watch The Rachel Maddow Show, you know she never wears glasses in that setting. But when doing guest appearances on everywhere from Maher's Real Time to Letterman's Late Night, the glasses that resemble what Rick Perry is donning lately reappear. Even Buzzfeed's 16 Things You Should Know About Rachel Maddow can't provide an answer to the glasses/no glasses question. However, if Rachel reads this and provides a response, the piece will be updated complete with a BREAKING NEWS banner.
Now back to our regularly scheduled column with some final thoughts from Banderas and Cupp on just how different each appears sans glasses.
"My black frames sort of became my TV uniform to the public and I was unrecognizable without them," says the Hartford-born Banderas. "Sort of like Clark Kent minus the super powers," later adding: "Since coming to Fox News Channel I sort of ditched the glasses and only wear them on air occasionally."
"Glasses are in right now. I got lucky," Cupp says, chuckling. "I gotta tell you…If I'm trying to go incognito somewhere, I just have to take them off and no one knows who I am. It's unbelievable. People who work with me don't even recognize me when I do that."
And so it goes in the world of cable news, where the individual brand is increasingly important to one's career…even if that branding upgrade comes unintentionally as it did with Banderas and Cupp.
Back to the hard reality of August, the world seemingly has descended into chaos both across the pond and here at home. Oftentimes the images are tough on the eyes. But for at least a few eyesight-challenged anchors and hosts in the world of cable news, they can see it all unfold with 20/20 clarity — and look good with a little style in the process.
Follow Joe Concha on Twitter @JoeConchaTV
— —
[Image via screen grab]
Have a tip we should know? tips@mediaite.com