Glenn Beck Asks Michele Bachmann About 'Shameless' Confrontation With 8-Year-Old
Beck Asks Bachmann About 'Shameless' Confrontation With 8-Year-Old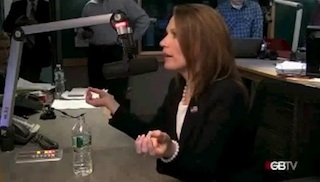 They've been having some big gets over at GBTV recently with Glenn Beck getting interviews yesterday with both Newt Gingrich and Michele Bachmann. Eagle-eyed fans will notice a slight difference in tone between the chats however. While Beck started his Gingrich interview by warning the candidate that he had serious concerns about him, he opened one of the two Bachmann interviews he did (one on his web show and one on the radio) by admitting, in full disclosure, that she was his current choice for President. Therefore, it shouldn't be too surprising that the bit in the radio interview where he pressed her on her now-infamous confrontation with an eight-year-old son of lesbian mothers ended up just being a "Prove Bachmann's Totally Not a Homophobe" contest.
RELATED: Rick Perry Pledges To End Obama's 'War On Religion,' Dings 'Don't Ask Don't Tell' In New Ad
In the interview, both Beck and Bachmann agree that the actions of the two mothers who appear to have pressured their young son into confronting Bachmann were "shameless." For the record, I agree with them. As I put it in my write up of the viral video yesterday, "Whether [I] agree with the the words the boy's been scripted to say or not, it's still a script. And whenever you force a child to get in an uncomfortable position and read from a script, it makes me uncomfortable." However, this interview here doesn't do Bachmann or Beck any favors. You could tell where it was going when Beck introduced the topic thusly:
"This is a recurring theme with you. This is how they're coming and they're coming with children to attack you on this. This is the nuclear bomb in politics, accusing you of a homophobe or whatever. They'll do this to anybody they want to destroy. How do you navigate in that kind of world where you're being, I think, set up every time to look like a homophobe?"
That's so true. Evil shadowy liberals accuse everyone of being a homophobe. It has absolutely nothing to do with Bachmann's comments calling homosexuality "part of Satan" and tantamount to "personal enslavement." Oh, no. These critiques of Bachmann are completely random. She's being set up!
Beck then asked Bachmann if she was a homophobe and she responded that she loved all people. She just happens to believe that gay people should never get married and should never even get civil unions because it's too close to marriage. It's ok, though. She loves them and still thinks they should get equal legal rights.
"How could you not agree with that?" enthused Beck's co-host Pat Gray.
There was no mention of Bachmann's past comments and, more damning, there was no mention of the very real allegations that Bachmann's husband used to run a "Pray the Gay Away" clinic. You'd think that would have been brought up considering, y'know, that's what the boy and his mothers were actually referring to.
Beck got some high praise for his interview with Gingrich yesterday and there were some other good moments in the two he did with Bachmann. This, however, was not one of them.
Watch the clip from GBTV below:
Have a tip we should know? tips@mediaite.com