Glenn Beck Gets Emotional While Discussing His Mother's Death And His Abusive Home On Today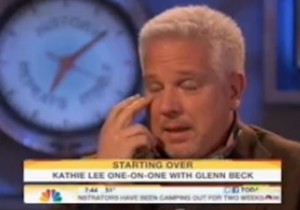 Glenn Beck sat down with Kathie Lee Gifford recently for a segment that aired this morning on NBC's Today Show. The "discussion" ranged from Beck's private family history — including a tough recollection of whether his mother's drowning was in fact suicide, as well as emotional discussion of parental child abuse — before turning to a quick explanation of GBTV and the burden of being "Glenn Beck." From tears, to jokes, to his conspiratorial theory of who is trying to end "the capitalist system and the Western way of life," it was a perfect advert for the Glenn Beck experience (which seemed to be its purpose).
Beck is a very popular media personality, with legions of very loyal supporters, many of whom subscribe to his GBTV online video offering. Beck's vision of the future of mass media and television has been lauded as a forward-thinking strategy for the new millenium. So this appearance with Gifford, on the top rated morning program TODAY really did serve as a perfect promotion for the "Glenn Beck Experience™."
Despite the fact this he's occasionally prone to over-the-top and hyperbolic comments, Beck is a charmer, which is on full display below. He is equally comfortable discussing his darkest childhood memories, and joking about a day in his life. His detractors call him a charlatan, and that may be true to some degree, but he's no more or less a charlatan than any of his opiniotainment peers. He's just better at it.
Watch the clip below, courtesy of NBC:
Have a tip we should know? tips@mediaite.com