Glenn Beck Gives Keynote Speech In Israel Rally And Then Heads Straight To South Africa For Global Tour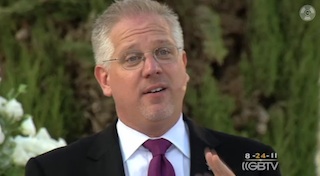 Today in the Davidson Center in Jerusalem, Glenn Beck spoke to a sold out crowd of 1,700 (as well as 3,000 watching at a viewing station nearby) and gave the keynote speech closing out his Restoring Courage Rally. He quoted from the Old Testament, denounced the "cold hearts" of the "bureaucrat at the United Nations," and pledged his support to the nation of Israel. He then, surprisingly, announced that his time abroad was not over as he would spend the rest of the week traveling to two more continents before returning to his new headquarters in Texas.
The contents of the speech (full text of which you can find here) would mostly be familiar to Beck's ardent followers as he discussed the murder of the Fogel family, the courage of the citizens of Joplin, Missouri, and the perceived cowardice of the global community in respect to Israel. He also pointed out his recent track record in predicting disasters and compared that to the one he currently sees happening:
"For the first half of my life I did very little. I was the stereotypical American that believed two oceans would forever shelter me.

As a radio and TV commentator, my job was little more than pointing out the problems. And I did. I saw what I thought were obvious things, and I made obvious observations.

I saw the interviews of Osama bin Laden, and so in 1999, I said he will attack New York again. He did.

I saw the unreal expectations of ordinary Americans in 2006, and so I said – there will be a crash in the housing market. It can't keep going up. And it crashed.

I saw the global financial markets ready to seize up in 2007… I saw the coming unrest and riots in Europe in 2008.

It didn't take a prophet to see these things – all you had to do was recognize that evil exists and evil was going unopposed.

And so this year, when I saw Tunisia's and Egypt's rulers crack and fall and the world called it the Arab Spring, I said: Where could this be going? And behind these revolutions was a familiar force, a force that will place those nations under a new pharaoh. And that force, I said, would come up to the borders of Israel. And so it has."
The South America stuff, however, was new.
"Let us begin here: some people call Israel an apartheid state. I reject that. And so immediately following this program I will fly to South Africa, which is where apartheid actually existed. I will broadcast from Cape Town tomorrow morning to remind the world what the evil of apartheid really looked like.

And I will learn from the people who conquered the hatred, ignorance and bigotry and who chartered a peaceful course for a new South Africa.

Then on Friday I will fly to South America to plead the case of human responsibility to a group of nearly 5,000 local leaders from all over the continent and ask them to join me in standing in defense of Israel, the Jewish people and responsibility.

Finally on Sunday, I will speak to 5,000 Americans in Dallas, Texas. I have chosen to end my week in the town where I will headquarter the charitable division of my company, Mercury One. Dedicated to the idea that one man, inspired by one God, makes a difference. This trip will end where a global moment begins."
While this year's rally didn't seem make the all-encompassing media splash of the one last year (the lack of ways to view it for free probably had much to do with that), it certainly seems to have been a rousing success for Beck and his fans as he begins the next stage of his career.
Watch the clip of the trip announcement section from GBTV below:
Have a tip we should know? tips@mediaite.com