"Bullcrap! Bullcrap, Sir!": Glenn Beck Is NOT Tickled By His Interview With Eric Massa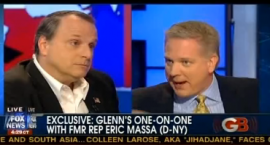 So, Eric Massa showed up for his Glenn Beck interview. And honestly I'm not really sure where to start. Wow. I think the short version is that the Massa that showed up at Glenn Beck's desk is definitely not the Massa that was on the other end of Beck's telephone yesterday. Something that began to be clear to Beck around the 20 minute mark, after Massa refused to get into specifics about the corruption of the Dems generally, and Rahm Emanuel specifically. At about the 25 minute mark Glenn Beck starts getting mad. If you ever wondered what Glenn Beck looks like when he realized he's been had that's a good place to start. It's not until the 50 minute mark, however, that Beck gives up and apologizes to America for "wasting your time." Actually, I don't think anyone was complaining. I do think it's fair to say we can expect to see Eric Massa's head on Beck's chalkboard sometime very soon.
Beyond that there is just too much good stuff to write it all down (video below). I kid you not, that was riveting TV. Though I think it's safe to say it will be a very, very long time before the term 'tickle fights' is used unironically. I am deferring to Twitter for the highlights. Videos below.
SteveKrak: Massa tells @GlennBeck he didn't grope anyone, just "tickled him" until he couldn't breathe – then 4 guys jumped on him. Oh.

HowardKurtz: Beck asks Massa if he believes in God.

The Fix: "I own this misbehavior." — Massa.

mikemadden: Massa: "I'm going to show you a lot more than tickle fights."

TheFix: "I should have never allowed myself to be as familiar with my staff as I was." — Massa. Also, Glenn Beck just said "tickle fights".

TheFix: Um, WOW. Massa just compared his Navy days to an orgy in Caligula.

daveweigel: RT @sethdmichaels: @GlennBeck is staring ahead glassy-eyed, thinking ruefully, "i committed to 49 more minutes of this."

mikemadden: This Beck-Massa interview is a good reminder of why TV producers (and pre-interviews) exist.

TheFix: Massa has an x-ray! Not kidding. Of his lungs. This is absolutely amazing. AMAZING.

mikemadden: Why would Massa come on Glenn Beck's show, then refuse to engage in the insane conspiracy theory that got him invited on in the first place? [ed. note: He read the Politico story and knows he's guilty and the clock is ticking? -GM]

chucktodd: Massa shouldn't be using the word "tickle" so much.

michaelscherer: RT @jamisonfoser: Glenn Beck is getting a taste of what it's like to watch Glenn Beck.

daveweigel: "This is an interview that nobody really wanted to happen." Give or take 300 million Americans!

TheFix: Glenn Beck looks genuinely shocked. Genuinely. He has his hand over his month.

andylevy: If someone, somewhere, isn't manufacturing a "Tickle Me, Massa" doll right now, then there is no hope for America.

HowardKurtz: Beck is outrambled: He keeps pressing for details, Eric Massa keeps offering generalities. Beck declares himself frustrated.

attackerman: All I can conclude is that @glennbeck is the victim of the most mischievous Rahm Emanuel strategy ever.

poniewozik: Today on Fox News, a Glenn Beck expose on the value of doing a thorough pre-interview.

marcambinder: So Massa, in saying he "forced himself out," basically repudiated the conspiracy theories he was propounding.

chucktodd: "I'm sure there are text messages" — so admits Massa when it comes to a leading Beck question on whether more will come out.

davidfolkenflik: Beck on Massa interview: "America, I'm going to shoot straight with you — I have wasted your time."
Opening: "I'm going to show you a lot more than tickle fights."

Glenn Beck: Bullcrap! Bullcrap, Sir!


Glenn Beck: America I have wasted your time


Have a tip we should know? tips@mediaite.com