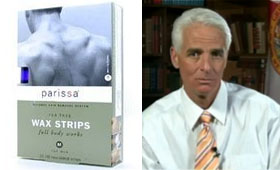 Of all the political blogs out there, RedState may just be the most proactive when it comes to sending people they don't like lots of convenient free stuff. When the Tea Party activists, in their embryonic stages, decided to send Congress only marginally useful packets of tea (completely useless, even, for those who do not consume caffeine), RedState went one step further and decided to send Senator Olympia Snowe bags of rock salt in the dead of the Maine winter. Because salt melts "Snowe," get it? It also melts real snow, and is expensive, so let's hope the senator sent them a thank-you note.
This time, they are focusing their rage on Florida governor and Republican senate candidate Charlie Crist, who quipped to Greta Van Susteren on On the Record last night that his opponent, Tea Party darling Marco Rubio, had spent upwards of $100 on a "back wax" using the State Republicans' credit card. Now Christmas is coming early for Crist, too, who is getting massive amounts of expensive depilatory wax, courtesy of Erick Erickson and company.
Erickson is certain there is something terribly offensive behind Crist's unprompted discussion of back waxing with Van Susteren, and it's not just the completely random and frivolous nature of the charge. The problem is Erickson is not exactly sure what it is. He ponders: "I don't know if he was trying to make a racial statement, which would be keeping with what his campaign has done all along in trying to make Marco Rubio as hispanic as possible, or if he was gay baiting."
He then proceeds to gay-bait:
I do know straight men know very little, if anything, about back waxing, which makes me wonder why that would come off the top of Charlie Crist's head.
Whatever Crist's obsession with back wax is, RedState is willing to indulge it, making sure Crist's back is appropriately pristine for the primaries. Erickson may not know anything about back wax, but he has found where to buy it— the Redstate.com Amazon store! Yes, RedState's store now stocks back wax and yes, the website receives a small margin of profit when you purchase it from them.
Here is the On the Record interview that offended RedState so much they have apparently opened a back wax business on the side:

Have a tip we should know? tips@mediaite.com