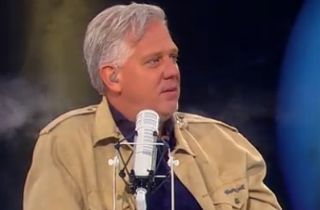 On Tuesday's episode of his online show, Glenn Beck took a look at Donald Trump's recent feud with Fox News, who Trump argues has not treated him fairly in its coverage of his recent campaign. Beck noted that even though network chairman Roger Ailes and Trump have made nice with each other, the conservative radio host found it interesting that Trump managed to escalate his Megyn Kelly feud to a fight directed at the higher-ups.
After examining the most recent public statements Trump and Ailes released about the fight, Beck and co-hosts Pat Gray and Stu Burguiere noted that there was a difference between their takes on how the discussion happened. Despite Trump's tweet that Ailes promised to treat him fairly in the future, Beck suspects that Ailes' "blunt conversation" involved him telling Trump to "knock if off."
"Donald was not looking forward to a phone call from Roger Ailes. And he gets that phone call and Roger said, 'Trump, knock it off. Knock it off,'" Beck said. He went on to suspect that Trump's tweet was actually a way to save face
Beck also said that the general message Ailes gave to Trump was similar to that which Kelly gave last night on her show, where she said she would take the high road and move on. Beck suspects that Ailes refused to indulge Trump by giving him an identical message.
"[Trump] got his butt handed to him," Beck said. "Then Roger said to Megyn, 'I support you. Those were good questions. You keep it up.'"
You can watch the segment here:
[image via screengrab]
Have a tip we should know? [email protected]