Gloria Allred To Hold Friar's Club Press Event With Fourth Herman Cain Accuser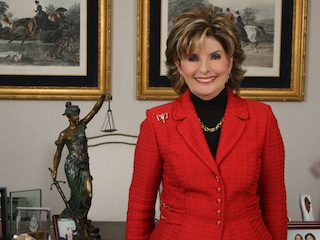 After mulling it over last week, one of the women involved in the Herman Cain sexual harassment scandal ultimately decided that she didn't want to reveal her identity to publicly discuss the settlement she received from Cain and the National Restaurant Association. Fortunately for anyone who can't get enough of Herman Cain sexual harassment scandals, there are other accusers out there and one of them has a super famous attorney.
Radar Online reported that Gloria Allred will be holding a press conference with another accuser, one the website describes as a "new woman," implying that this might be an allegation we haven't yet heard of. Sure enough, Allred has since released a statement confirming that.
From Radar:
"A new woman alleging sexual harassment by presidential hopeful Herman Cain will break her silence at a news conference with her powerhouse attorney Gloria Allred Monday afternoon in New York City, RadarOnline.com is exclusively reporting.

The woman, who will be the first to go public on Monday, sought Cain's help with an employment issue and was allegedly sexually harassed by him. Allred and her client will discuss, in detail, what she alleges occurred with Cain."
Shortly after that story broke, Allred released this statement:
"A woman who alleges that she was sexually harassed by Presidential hopeful, Herman Cain, when she sought his help with an employment issue when he was President of the National Restaurant Association will hold a news conference with her Attorney, Gloria Allred on Monday, November 7th, at 1:30 p.m. (e.s.t.) at the Friars Club, 57 East 55th Street New York, NY 10022.

The woman is not one of the three women who have previously been reported to have alleged sexual harassment by Cain.

Ms. Allred's client will be the first to give her name and to speak out about details of what she alleges occurred between her and Cain."
As Talking Points Memo points out, Allred has already spoken out about the scandal, telling The Hill last week that she saw "a lot of inconsistencies" in Cain's statements about the settlements and allegations.
This scandal was one of the biggest stories of last week and it will be interesting to see how much more interest the media and public has for it. At the beginning, the story didn't seem to be affecting Cain too much but, recently, it has begun to take its toll.
Really, we're just hoping this press conference will feature someone doing something filthy with a pizza slicer.
Have a tip we should know? tips@mediaite.com