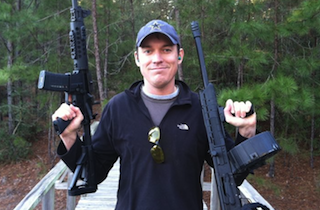 John LeFevre — aka @GSElevator, the parody Twitter account that tweeted nuggets of rapacious wisdom supposedly overheard in the hallways of Goldman Sachs — lost his book deal Thursday.

Last month, when Simon & Schuster announced plans for Straight to Hell: True Tales of Deviance and Excess in the World of Investment Banking, the author behind the account was still anonymous, and thought to work at the infamous investment bank (though many were suspicious of this).
LeFevre was unmasked two weeks ago by the New York Times' Andrew Ross Sorkin as a former Citibank employee who now lives in Texas. After some subsequent criticism, he defended himself in Business Insider, arguing that the revelation of his identity was part of the plan, and that the tenor of @GSElevator was a projection of his own personality. (And for the record: "Any person who actually thought my Twitter feed was literally about verbatim conversations overhead in the elevators of Goldman Sachs is an idiot.")
S&S notified LeFevre of the cancellation by email.
RELATED: Whoops: NY Times Ombudsman Really Thought Goldman Sachs Banned Talking in Elevators
"It's just a comical mystery to me," LeFevre said to Business Insider. "As of Friday afternoon, after all of the noise — during which Simon & Schuster prohibited me from responding and defending myself — they have continued to support me and stand by our project…Well, until today apparently."
LeFevre insists he's down but not out, arguing that the revelation of his identity has actually led to more writing offers. One hopes so:
#1: I just want to be rich enough to not be motivated by money.

— GS Elevator Gossip (@GSElevator) December 14, 2013
[h/t Business Insider]
[Image via screengrab]
——
>> Follow Evan McMurry (@evanmcmurry) on Twitter
Have a tip we should know? tips@mediaite.com