GOP Gov. Bobby Jindal: Republicans Need To 'Stop Insulting The Intelligence Of The Voters'
Gov. Jindal: Republicans Need To 'Stop Insulting The Intelligence Of The Voters'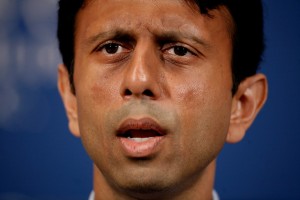 Louisiana Governor Bobby Jindal has a message for the rest of the Republican party: stop pushing "dumbed-down conservatism." In an interview with POLITICO, Jindal criticized the Republican party for talking down to the electorate while allying itself with big business. He said that the GOP needs to be a party of ideas, and not just present itself as the anti-Obama party, because that strategy "didn't work" for Mitt Romney.
RELATED: Michael Reagan Slams GOP: They Talk About Ronald Reagan, But They Haven't Really Embraced Him
Jindal rejected the idea that the Republican party needs to shift its positions in order to win over Latinos and other minority groups, and instead said the GOP's real problem is a rising tide of anti-intellectual sentiment.
"It is no secret we had a number of Republicans damage our brand this year with offensive, bizarre comments — enough of that… It's not going to be the last time anyone says something stupid within our party, but it can't be tolerated within our party. We've also had enough of this dumbed-down conservatism. We need to stop being simplistic, we need to trust the intelligence of the American people and we need to stop insulting the intelligence of the voters."
He said the party needs to go beyond easy soundbites and "mindless slogans" and present "real detailed policy solutions" to be a substantive alternative to the Democrats. Jindal credited the president's team for effectively pushing the narrative that the Republican party serves the best interests of the status quo, which the Louisiana governor said is not what the GOP stands for.
Jindal also spoke out against the ties between big business and politics, warning the Republican party that they should not be the party "that simply protects the rich so they get to keep their toys." He also lamented the rise of lobbyists working both sides of the aisle in Congress.
Jindal will take over as the head of the Republican Governors Association in 2013. You can read the full interview here, courtesy of POLITICO.
—–
Follow Josh Feldman on Twitter: @feldmaniac
Have a tip we should know? tips@mediaite.com
Josh Feldman - Senior Editor