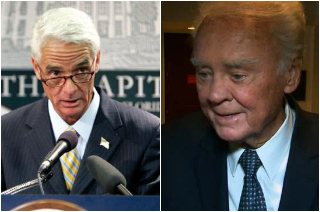 Over his peripatetic career, Charlie Crist has gone to the Florida governor's mansion, and recently to the Democratic side of the aisle, but there's one place he definitely isn't welcome.
Beverly Young, widow of the late Representative C. W. 'Bill' Young (R-FL), told the former Florida governor in no uncertain terms to stay away from her husband's funeral.
Young, the longest-tenured Republican in the House of Representatives, passed last Friday at the age of eighty-two. 6,000 are expected to attend his funeral, and House Speaker John Boehner (R-OH) and House Minority Whip Steny Hoyer (D-MD) are scheduled to speak. But Beverly Young detected political opportunism in Crist's attendance:
Charlie:

This e-mail is to officially advise you that your presence at my husband's memorial services will be unacceptable. I have watched over the years, as Bill had, your transparent attempts to manipulate the political arena. I don't want my husband's memorial service to be another opportunity for that and I will not tolerate anyone turning this into a platform for political gain.
Please honor my families request.

Sincerely,
Beverly Young
Widow of Congressman Bill Young
It's not clear what caused the dispute between Young and Crist, who formerly served as a Republican governor for Florida but switched parties toward the close of 2012.
"Some Young allies were turned off with the way Crist in 2009 held a cattle call of sorts, summoning Young and other potential candidates for Crist to appoint to the unfinished term of U.S. Sen. Mel Martinez," the Tampa Bay Times theorized. "Young showed up looking in sneakers and baggy polo, as if Crist had interrupted his lawn mowing, and told a surprised Gov. Crist he had no interest in the appointment."
Crist wasn't the only one told to keep clear. "BILL SPECIFICALLY said he didn't want his memorial service to be a platform for local politicians to work the crowds," Mrs. Young emailed to two other Florida figures. "He's right. It's not only wrong, its disgusting to see that happen."
[h/t Tampa Bay Times]
——
>> Follow Evan McMurry (@evanmcmurry) on Twitter
Have a tip we should know? tips@mediaite.com