GOP School Board Members Take On Michelle Obama For Holding Campaign Event At Public School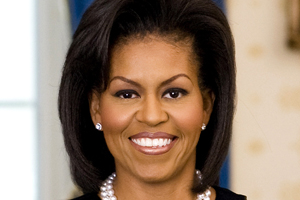 While First Lady Michelle Obama is certainly the more well-liked half of the First Couple, she hasn't been immune to her own share of criticism. And another helping of that came along when she decided to hold a campaign event at a school in Florida. Some Republican members of the school board argued that politics should be staying out of the empty-for-the-summer school.
According to the New York Daily News, Obama " is scheduled to help recruit campaign volunteers at an event at Miami Lakes' Barbara Goleman Senior High" — but some members have called for its cancellation. Via the Daily News:
Another board member, Carlos Curbelo, sent a letter to the school board's attorney saying it is "inappropriate" and "sends the wrong message" for the Obama campaign hold a political event at the school. Curbelo has worked as a Republican strategist, the newspaper noted.

The use of public schools whose only focus should be to educate our children for political gain is downright wrong," Diaz de la Portilla said in a statement provided to the Herald. "Don't these liberals have boundaries? Our schools are places for learning, not places for politicking."
Though Obama isn't alone. The report notes that it's not unheard of for candidates to use public schools for events. Indeed, Mitt Romney "is holding a town hall meeting Tuesday at Central High School in Grand Junction, Colo."
Meanwhile, students at Barbara Goleman Senior High are "on summer break and its employees cannot attend the event if they are working." The cost of attendance — $2,351 — will be paid by the campaign, not the district.
(H/T NYDN)
Have a tip we should know? tips@mediaite.com