GOP's Saint Patrick's Day Tweet of Beto's Mugshot So Bad People Can't Believe It: 'No This Didn't Happen'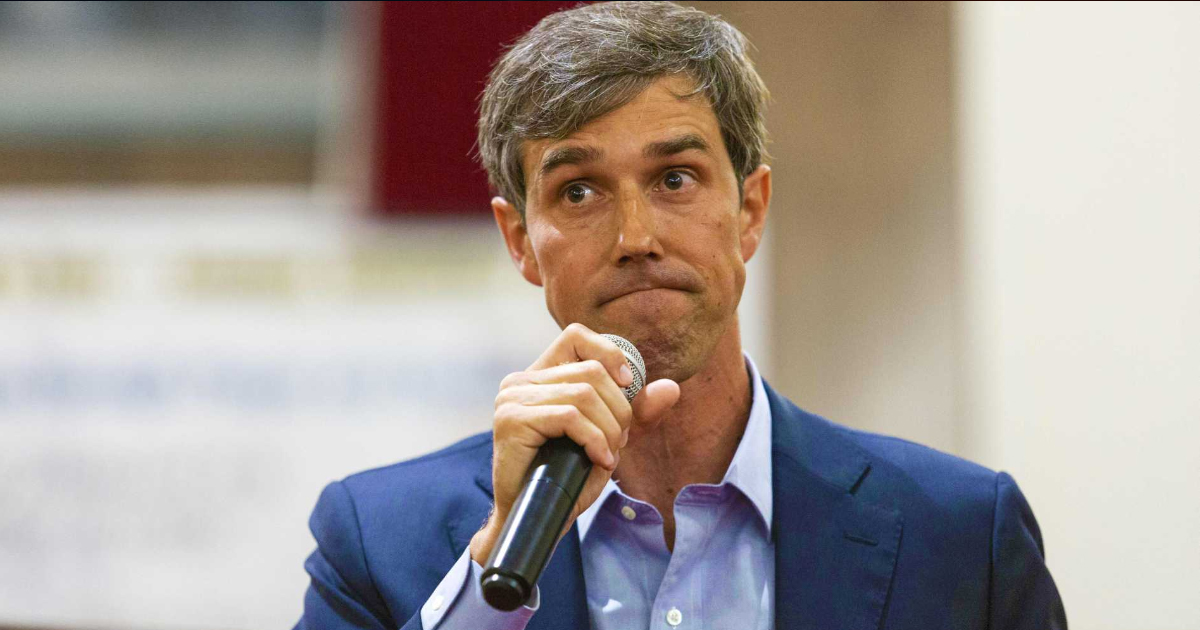 Today is St. Patrick's Day, and to celebrate, the official GOP Twitter account started a huge backlash and engendered sympathy for a Democrat candidate for 2020 who was otherwise not having a great week: Beto O'Rourke.
The amazingly ill-advised tweet, complete with mugshot given photoshop treatment, went out just after noon, and the last two hours have been almost exclusively negative reactions from prominent accounts on both the left and the right. Smooth.
Here's the offending tweet:
On this St. Paddy's Day, a special message from noted Irishman Robert Francis O'Rourke. pic.twitter.com/JRjMEXhZRY

— GOP (@GOP) March 17, 2019
And here are the replies that it's hard to believe they didn't see coming, starting with one that is a good summary of the general reaction.
"Irishman" is quite a loaded term for a political party to use alongside an arrest photo on St. Pat's wknd. At Notre Dame and elsewhere, I know scholars who closely track the way Catholics and Irish Americans have been portrayed — and are still portrayed in America. https://t.co/M9aGI5uS5N

— Robert Costa (@costareports) March 17, 2019
Or to put it another way…
Oh, come on. https://t.co/8whnTGhR48

— Nicole Kaeding (@NKaeding) March 17, 2019
The tweet was so blatantly bad that it stunned a lot of people into one word replies.
— kristen johnston (@thekjohnston) March 17, 2019
— jess mcintosh (@jess_mc) March 17, 2019
— Ben Shapiro (@benshapiro) March 17, 2019
— The Reagan Battalion (@ReaganBattalion) March 17, 2019
But of course not every reply was so straightforward.
Will an adult please take the Twitter keys away from whichever child is tweeting at the RNC? https://t.co/Lw4NopybHK

— Erick Erickson (@EWErickson) March 17, 2019
I guess Make America Great Again means a return to the 1840s. https://t.co/ybvfTmbXU2

— Anthony Michael Kreis (@AnthonyMKreis) March 17, 2019
"We've alienated women, blacks, Hispanics, Jews, Muslims, homosexuals and transgenders. We're down to straight white Christian guys. Who's next? https://t.co/NwwuVZwM66

— Charles Gaba (@charles_gaba) March 17, 2019
Sick burn, said the 9 year old toadie to the bully https://t.co/w84T5tOcar

— Greg Pinelo (@gregpinelo) March 17, 2019
The adults in the room. The party of Lincoln, Ike, and Reagan. Today, I'm proud to be Irish. Less proud that stayed in the GOP longer than I should have. https://t.co/wPoQ7qPrER

— Tom Nichols (@RadioFreeTom) March 17, 2019
Will the @GOP staffer who did this be fired or promoted? https://t.co/rqpbqt9OTR

— John Dabkovich (@JohnDabkovich) March 17, 2019
Bottom be endless bro https://t.co/kzxMBNBBPe

— mike freeman (@mikefreemanNFL) March 17, 2019
Just in case you thought being white would protect you from the GOP's bigotry https://t.co/UfvBp6PP4K

— Markos Moulitsas (@markos) March 17, 2019
No this didn't happen https://t.co/0snD4PuF5c

— David Frum (@davidfrum) March 17, 2019
I'm picturing RNC staff sitting around and asking themselves if there were any ethnicities that Republicans hadn't recently offended. "When's the last time we fucked with the Irish?" "Do it, bro. It'll be epic." https://t.co/FOjAMKiD6U

— Adam Parkhomenko (@AdamParkhomenko) March 17, 2019
CNN and MSNBC anchors weighed in, too.
Be best, etc https://t.co/Pgcb8zdFrq

— Jake Tapper (@jaketapper) March 17, 2019
This from the Grand Old Party
Please
Please
Do better
Be better
For everyone https://t.co/Ig6o9jnfac

— Stephanie Ruhle (@SRuhle) March 17, 2019
"Be best", Melania Trump's campaign against bullying, came up a lot, as in Tapper's tweet above. Another recurring theme was the "what about so-and-so" reply.
Cute, were you out of Brett Kavanaugh gifs? https://t.co/03mVD9CseD

— Damian Holbrook (@damianholbrook) March 17, 2019
Cool, now do Matt Gaetz. https://t.co/JKme6pj4Mg

— Jamie O'Grady 🤔 (@JamieOGrady) March 17, 2019
There were a lot of Kavanaugh and Gaetz replies, but on scan-through it really looks like the Gaetz retweets and replies were in the lead. And they were filled with photoshops.
Still, not every reply was angry. The Young Republicans emulated their elders, as youth tend to do, and got in on the action.
Stay safe out there today and remember to drink responsibly. Check out this hot pic of America's biggest joke Robert "Beto" O'Rourke! #StPatricksDay https://t.co/fSR4VpGZZs

— Young Republicans (@yrnf) March 17, 2019
Fortunately, about an hour into the backlash, @GOP realized they were getting a big reaction and put out a clarificatioOHH WAIT never mind they doubled down.
O'Rourke was a failed Member of Congress w/ a far-left liberal record:
*voted w/ Nancy Pelosi 94% of the time
*only passed one bill—renaming a courthouse
*supports the $93 trillion Green New Deal
*voted against the Tax Cuts and Jobs Act, which added 362,200 jobs to his home state

— GOP (@GOP) March 17, 2019
Still, Happy St. Patrick's Day, everyone. It wouldn't be a holiday if people weren't being dicks on Twitter. Or a day of the week. Or any particular minute of any particular day.
[Featured image via screengrab]
Have a tip we should know? [email protected]