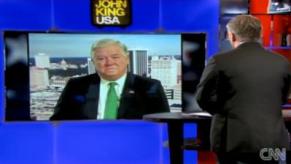 Everyone from fellow Republicans to porn stars are weighing in on RNC Chairman Michael Steele this week.
In the wake of Steele's comments about having a "slimmer margin" of error because he's African American, a former RNC Chairman defended Steele by calling himself a "fat redneck."
On CNN's John King, USA, John King brought up Steele comments earlier this week to Mississippi Gov. Haley Barbour, a former RNC Chairman in the 1990s and now Chairman of the Republican Governors Association. "When you're a fat redneck like me, and got an accent like mine, you can say, 'Well they're gonna hold me to a higher standard," said Barbour. "In fact, I don't think anybody ever held me to a higher standard then I held myself."
Well that's an interesting comparison (and one that may get some cable news replay – it was on MSNBC this morning).
Barbour said he didn't view Steele, the first African American RNC Chairman, any differently, saying "I just don't see that. I don't think that way." But he wouldn't comment directly on whether Steele should remain in his current role. "I don't think it's useful for me to critique any Chairman now or any Chairman since I was Chairman, and I've not done that and I'm not gonna start now," he said.
Meanwhile the RNC raised the most money ever in a March of a congressional year last year.
Here's the CNN video (it contains video)

—–
» Follow Steve Krakauer on Twitter
Have a tip we should know? tips@mediaite.com