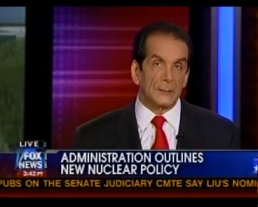 Yesterday, President Obama announced a new nuclear policy restricting the instances in which the country is able to use nuclear weapons. Interestingly, the pundits seem to have more of a problem with the new policy than the politicians on the right.
Perhaps not surprisingly both Glenn Beck and Rush Limbaugh were less than thrilled with the decision. Limbaugh called it national suicide and Beck said he couldn't think of anything more dangerous than a president saying the country wouldn't use nuclear weapons.
Former Mayor Rudy Giuliani (and current Arianna watch dog), meanwhile, is accusing Obama of wanting to turn defense policy into a round of Kumbaya. And last night on Fox Charles Krauthammer said he thought the idea that we wouldn't immediately "obliterate" a country that used biological weapons against us was both "insane" and "morally ridiculous." (Video below). Meanwhile, wherefore the GOP? This from ABC's Jonathan Karl:
Before the announcement this morning, the Republican National Committee offered a pre-emptive attack of its own in the form of a statement with an oddly worded headline: "What 2 Watch 4: Will Obama Disarm America's Nuclear Deterrent?" But after the announcement, the immediate GOP response was more yawn than yell…Other Republicans I have spoken to today offered similarly mixed reviews. That's because most of them don't think the new strategy changes much at all.
Meanwhile the NYT editorial board thinks its mostly great saying Obama is "taking important steps to make the world safer and bolster this country's credibility as it tries to constrain the nuclear ambitions of Iran, North Korea and others." Video of Krauthammer below.

Have a tip we should know? tips@mediaite.com