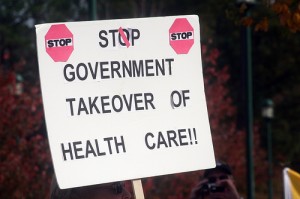 There are a lot of lies told each calendar year, and more so during election years. So as 2010 comes to an end, PolitiFact looked back and determined which one they thought should be their Lie of the Year. And the winner (or loser?) is: "A government takeover of health care," a phrase they say was instrumental in stopping "President Barack Obama's ambitious plan to overhaul America's health insurance system."
You may be wondering why that line is the PolitiFact Lie of the Year, especially since it's not even a complete sentence. As they explain it:
PolitiFact editors and reporters have chosen "government takeover of health care" as the 2010 Lie of the Year. Uttered by dozens of politicians and pundits, it played an important role in shaping public opinion about the health care plan and was a significant factor in the Democrats' shellacking in the November elections.
They went on to note that their readers, too, selected "a government takeover of health care" as 2010's top lie. They also made sure to say that their selection isn't a statement or judgement. "The phrase is simply not true," they wrote, before listing some of the claim's inaccuracies:
• Employers will continue to provide health insurance to the majority of Americans through private insurance companies.

• Contrary to the claim, more people will get private health coverage. The law sets up "exchanges" where private insurers will compete to provide coverage to people who don't have it.

• The government will not seize control of hospitals or nationalize doctors.

• The law does not include the public option, a government-run insurance plan that would have competed with private insurers.

• The law gives tax credits to people who have difficulty affording insurance, so they can buy their coverage from private providers on the exchange. But here too, the approach relies on a free market with regulations, not socialized medicine.
Yet, as proven by numerous Tea Party rallies (and even more Tea Party signs), those bulleted points made quite an impression on the electorate, whose midterm votes helped change the composition of Congress. You can read the rest of PolitiFact's exhaustive dossier on the phrase over here.
Have a tip we should know? tips@mediaite.com