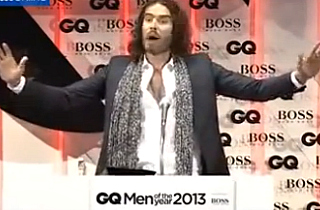 GQ magazine was apparently so displeased with comedian Russell Brand's recent Nazi-related joke about the Hugo Boss fashion company that they erased all traces of him from their online and print "Man of the Year" issue.

In a tweet this week, Brand accused the men's magazine of cleansing itself entirely of his image:
GQ cleansed me from their issue. That's what they do when they don't like something. I guess that's why they dig the Nazis.

— Russell Brand (@rustyrockets) October 9, 2013
According to Vocativ, Brand appears to be correct: the magazine's UK edition cleared him out of the aforementioned "Men of the Year" issue, despite having named him an "Oracle" of the list.
But let's get to the other controversial point: Nazis?!
Here's the background: At last month's GQ Man of the Year Awards in London, Brand was on-hand to speak and make jokes, etc., all without GQ grasping at the potential for controversy that comes with such an invitation. And, oh boy, controversy did ensue.
-RELATED: Russell Brand Hijacks Morning Joe, Skewers Brzezinski & Guests: 'Is This What You All Do for a Living?'
(Before you continue, keep in mind that the fashion company Hugo Boss paid £250,000 to sponsor the dinner event. Hugo Boss is also the same company that (at the time) proudly supplied uniforms for the Nazi regime. So, yeah.)
After London mayor Boris Johnson accepted a prior award and used the podium to rail against pro-Syrian intervention factions in the UK government, Brand took to the mound and delivered this doozy of speech:
"Also glad to grace the stage where Boris Johnson just made light of the use of chemical weapons in Syria, meaning that GQ can now stand for 'Genocide Quips.' I mention that only to make this next comment a bit lighter. 'Cause if any of you know a little bit about history and fashion, you'll know that Hugo Boss made the uniforms for the Nazis. And the Nazis did have flaws. But they did look fucking fantastic, let's face it, while they were killing people on the basis of their religion and sexuality."
Welp. Naturally, Brand was kicked out of the award ceremony's after-party and, as we know now, removed from the magazine entirely. He humorously recounted his confrontation with GQ brass as such:
GQ editor: "What you did was very offensive to Hugo Boss."
Me:" What Hugo Boss did was very offensive to the Jews."
#GQAwards
#nazitailor

— Russell Brand (@rustyrockets) September 4, 2013
Vocativ has the details of just how extensive GQ's Brand-cleansing actually was:
The only evidence of Brand that remains on the GQ website is a list of winners from the night's liveblog, but if you click on Brand's name, it goes to a 404: File Not Found.

Coding accident? Not likely, as every other winner on the list — all 23 of them — have functional landing pages if you click on their name, taking you to a photo of the winner, explanation of the prize and why they deserved to win. Perhaps Hugo Boss threatened to pull advertising money? He's also been omitted from the web winners' slideshow.
Though GQ has avoided commenting on the matter, Hugo Boss responded by pointing out that the British actor wore a Hugo Boss jacket to an Oscar party in February. Brand himself explained the joke to the Guardian:
"The jokes about Hugo Boss were not intended to herald a campaign to destroy them. They're not Monsanto or Halliburton, the contemporary corporate allies of modern-day fascism; they are, I thought, an irrelevant menswear supplier with a double-dodgy history."
This is not the first time GQ UK has scrubbed itself of certain content. Earlier this year, we reported on the magazine mysteriously deleting a re-published Naomi Campbell interview with deceased Venezuelan dictator Hugo Chavez.
Watch the infamous Brand moment below:
[h/t
Vocativ
]
— —
>> Follow Andrew Kirell (@AndrewKirell) on Twitter
Have a tip we should know? [email protected]