Graham: Trump's Muslim Ban Must Be Condemned, GOP Must Tell Him to 'Go to Hell'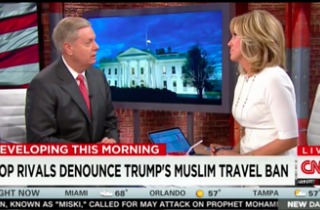 Lindsey Graham raked Donald Trump's ideas across the coals this morning when he joined the chorus saying Trump's call for a blanket ban on all Muslims entering the country was evidence that he's a "race-baiting, xenophobic religious bigot."
In a segment of the interview, Graham admitted that he'd "rather lose without Donald Trump than try to win with him. I wish he would leave the party. I don't care if he wins the 2016 election." He continued to say that Trump's presence in the race now goes beyond the 2016 election, and that "this is about the country of the future and our party."
After that, the interview shifted to how Ted Cruz declined to rebuke Trump as strongly as others have by only saying it was "not [his] policy," to which Graham said that Cruz had a "moral imperative" to blast Trump's proposal, going beyond a debate on policy. Graham assumed this was part of Cruz's supposed plan to wait for Trump and Ben Carson to fall so he can absorb their numbers into his campaign.
"This is not a policy debate, Ted," Graham said. "This is about you and us and our character as a party. Up your game. Condemn it because it needs to be condemned."
When asked what the GOP could do to rebuke Trump en masse, Graham said that the key was to side with the Muslim majority that rejects extremism. "Do you know how you make America great again?" Graham asked himself. "Tell Donald Trump to go to hell."
Watch above, via CNN.
[image via screengrab]
Have a tip we should know? tips@mediaite.com