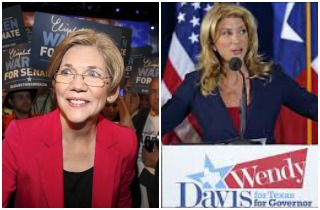 "…We need Democratic donors to step up in a bigger way immediately."
This was the alarm sounded by Democratic Senatorial Campaign Committee Executive Director Guy Cecil in an interview with the New York Times on Wednesday. "Democrats need money at this early stage in order to fight back against the limitless spending from the Kochs," he continued.
Those who do not immediately dismiss this seemingly panic-stricken appeal to donors as nothing out of the ordinary for a fundraiser could be forgiven for thinking that the Democratic committees are in dire need of funds. This is not the case.
Democrats are donating. In October, following the government shutdown, the DSCC outraised its Republican counterpart, the National Republican Senatorial Committee, by $1 million. The following month, the DSCC raised another $5 million. At the beginning of December, the committee had $12 million in the bank and $5 million in debt. This is not a bad place to start an election cycle.
It is not that Democrats cannot be moved to support Democrats, it is that the type of Democrats who inspire grassroots liberals and progressives to contribute are primarily the party's new faces. The Democratic Party's star power does not rest with their incumbents – a bad sign heading into a midterm election year in which the party has to defend a number of vulnerable Senate Democrats who inspire more yawns then yelps from their party's most animated volunteers and voters.
Sen. Elizabeth Warren (D-MA), for example, has a pretty full plate these days. On December 31, she announced that her PAC, founded to assist her fellow Democrats in their reelection bids, raised nearly $500,000. Warren has been tapped to attend fundraisers for embattled incumbents like Sens. Mark Pryor (D-AR), Jean Shaheen (D-NH), and even Al Franken (D-MN).
Shaheen's race was not even on the national radar until recently. Today, a number of parties are already running ads in the Granite State which target both her and her increasingly likely opponent, former Sen. Scott Brown (R-MA). Franken is a bona fide celebrity and is running in a state so blue that North Star State Democrats were able to fend off most GOP challengers in the wave year of 2010. A Public Policy Polling survey of New Hampshire released on Wednesday shows Sheheen leading Brown by just 3 points and well under 50 percent support.
Then there are Democratic rock stars like state Sen. Wendy Davis (D-Fort Worth). Her quixotic rise to popularity after an 11-hour filibuster against an abortion bill which ultimately passed has propelled her to fame within the Democratic Party, and she has been quick to capitalize on her new status. Davis announced this week that her campaign for governor of Texas raised a staggering $12.2 million. This is roughly on par with her Republican opponent and the vast majority of those donations have come from in-state, but, in a state that hasn't elected a Democrat in a state-wide race since 1990, some are wondering if this is money better spent elsewhere.
And the map of competitive Senate races appears to keep expanding as the political environment deteriorates for Democrats. Even in Michigan, where the respected Republican polling firm Harper Polling released a shocking survey this week which showed former Secretary of State Terri Land leading her likely Democratic opponent, Rep. Gary Peters (D-MI), by 8 points, Democrats have found themselves in an unexpected fight to keep retiring Sen. Carl Levin's (D-MI) seat in their column.
On Tuesday, Land announced she had raised $1.7 million in the last quarter of 2013. She has raised $3.7 million since June, including $1.6 million in personal loans. Peters will reveal his fundraising totals at the end of the month, but he reported just under $2.5 million in cash on hand on September 30 of last year.
With the party's donor class shelling out for the Democrat's biggest names, there are more than a handful of slightly less appealing Democrats in states like North Carolina, Alaska, and Arkansas that are going to be leaning more and more heavily on the party's rock stars. And the Democrats only have so many rock stars to go around.
[Photo via AP/Reuters]
— —
> >Follow Noah Rothman (@NoahCRothman) on Twitter
Have a tip we should know? tips@mediaite.com