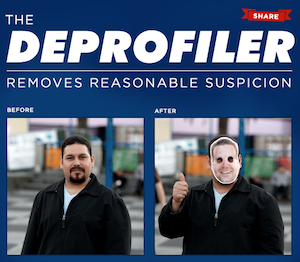 Supporters of the group Reform Immigration for America have come up with a fairly clever way to get attention. They've created a website advertising masks for Arizona citizens to wear so as to "remove reasonable suspicion" after the passing of the recent Immigration Bill. The masks are, of course, of blandly nonthreatening white people. The masks and the website are pretty funny and, like all clever protests, will assuredly be taken out of context and accused of any number of things by the end of the day.
The "Deprofiler" site is fairly simple. It features a bunch of different pictures of caucasian faces. Choose one and you'll get a PDF file with the life-size face that you can print out. They were even nice enough to make dotted lines for the eye holes. (This writer chose the old man with a moustache. Not because I fear getting deported any time soon. I just can't ever grow a nice, full moustache like that.) There is also a link to the organization's main site as well as a button to share the page so you can "help a friend be white today".
The cheeky opening text is as follows:
"Being brown in America was never easy. But now, due to SB 1070, it can get you thrown in jail. Deprofiler.com allows you to print a mask of a friendly white person's face to wear while you're in Arizona. Now you can bask in the freedom and confidence of knowing you'll never be harassed by the police."
Satire is one of the best ways to get your point across. It's also one of the most dangerous. Ever since the first person asked Jonathan Swift if he was really going to eat some babies, satirists have had their purposefully twisted words forcibly untwisted. So, congratulations, Team Deprofiler, you made us laugh. Just know that, as we speak, there's a guy who totally missed your point and is sitting at his computer putting the finishing touches on his "Why are white people masks okay but dressing up in black face isn't?"
UPDATE: The site is not officially connected to the organization Reform Immigration for America as this post originally implied. It was created by a team who chose to endorse and link to RIfA. Since they did not have an About section on the site and instead had multiple links to the organization, we wrongly assumed they were involved. After saying how clear it was to tell who made the Crayola video last week, serves this writer right for mixing that up.
(h/t Wonkette)
Have a tip we should know? tips@mediaite.com