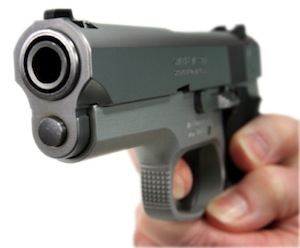 Gun advocacy groups are rushing in to attempt to fund Trayvon Martin shooter George Zimmerman's defense funds, HLN's Craig Johnson reports.
At least two gun groups are standing up for Zimmerman, offering to contribute money and support.
RELATED: NRA Introduces New Hoodies With Gun Pockets In Online Store
"We wanted to help someone who we feel has been wronged and found guilty in the court of public opinion," explained Chris Kossmann of Legal Boom, a gun rights group based in Florida.
"People have been crying for justice but we don't think people know what real justice is. As of yet nobody's stood up for him (Zimmerman)," Kossmann added. "There's never really been an outlet for people to support Zimmerman. They are numerous people supporting the other side," he said. "But anyone who has sided with Zimmerman has been ridiculed for it."
Johnson adds that Kossman's group and Texas-based National Association for Legal Gun Defense have both reached out to donate to Zimmerman.
Kossman said Legal Boom has been in contact with Zimmerman attorney Craig Sonner about contributing to the neighborhood watch captain's defense fund. "We have spoken with him (Sonner) on two different occasions." Declining to cite specifics, Kossmann said, "We're currently working together to further our talks."

Another gun rights organization, the National Association for Legal Gun Defense, seeks to donate $10,000 toward Zimmerman's legal expenses, the Orlando Sentinel reported Friday. Fort Worth, Texas, attorney Blue Rannefeld, whom the newspaper cites as a member, says he is trying to get in contact with Sonner to make the group's offer.
Zimmerman remains under investigation by a special prosecutor and so far has not been charged with a crime.
(h/t Roland Martin via HLN)
Have a tip we should know? tips@mediaite.com