Hannity Most-Watched Cable News Program During 1st Quarter of 2018, Maddow Tops Demo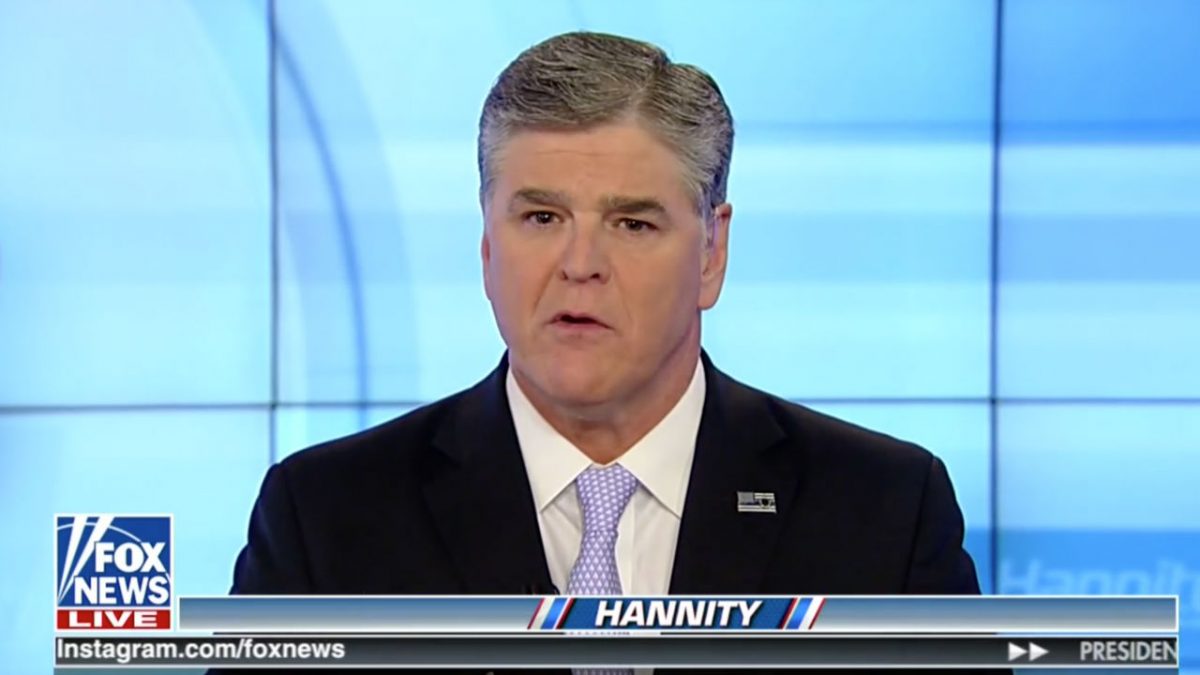 The numbers are in for 2018's first quarter, and Fox News once again was the top-rated cable news network, leading the way in total day and primetime viewership. The network also had the most-watched program in cable news when it came to overall viewers. Meanwhile, MSNBC saw year-to-year growth across the board and CNN saw big ratings for its original series.
In total day viewership (seven-day week), Fox News pulled in an overall audience of 1.445 million and 300,000 in the key 25-54 demographic. MSNBC finished second in total viewers (1.008 million) and third in the demo (221,000). CNN averaged 713,000 total viewers and 232,000 in the demographic.
During the primetime 8 PM to 11 PM hours (seven-day week), Fox News attracted 2.479 million overall viewers and 494,000 demo viewers. MSNBC was runner-up in both metrics, grabbing a total viewership of 1.859 million and 405,000 in the demographic. CNN captured 985,000 total viewers and a 25-54 audience of 341,000.
MSNBC was the only one of the three networks to see growth from first quarter 2017. In primetime, MSNBC was up 30% in total viewers and 20% in the demographic. For total day, the network experienced growth of 30% in overall audience and 21% in the key demographic.
In terms of individual shows, Fox News' Hannity averaged an overall viewership of 3.196 million to lead the way in cable news. Hannity's 9 PM competitor, MSNBC's The Rachel Maddow Show, topped the demo for the quarter, averaging 664,000 in the metric. (Hannity finished a close second with 662,000 demo viewers.) Maddow was second in total viewers (2.993 million), followed by three Fox programs — Tucker Carlson Tonight (2.908 million), The Ingraham Angle (2.487 million) and Special Report with Bret Baier (2.361 million).
During the 11 PM M-F time slot, The 11th Hour with Brian Williams led across the board, pulling in 1.598 million total viewers and 366,000 in the demo. Fox News @ Night was second in both metrics, averaging an overall audience of 1.504 million while snagging 352,000 demographic viewers. The 11th Hour finished the quarter as the 13th most-watched show in cable news and 11th in the demo.
CNN saw success with the CNN Original Series American Dynasties: The Kennedys, which drew 2.005 million total viewers and 529,000 in the demo since debuting in March. The docuseries led its Sunday 9 PM timeslot, outperforming CNN and Fox News combined. Another Original Series, Pope: The Most Powerful Man in History, also led its Sunday 10 PM timeslot after debuting in March, averaging 1.33 million total viewers and a 25-54 audience of 366,000.
For the business networks, Fox Business ended up being leading the way in total viewers in business day, pulling in 239,000 compared to CNBC's 201,000. This was FBN's sixth straight quarter on top among business networks. CNBC, however, did tick ahead of FBN in the key demo, averaging 35,000 to Fox Business's 31,000. Fox Business also had the most-watched business program on cable news as Lou Dobbs Tonight attracted 368,000 total viewers.
[image via screengrab]
—
Follow Justin Baragona on Twitter: @justinbaragona
Have a tip we should know? tips@mediaite.com