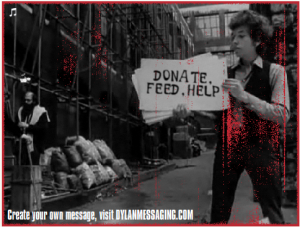 You know what they say — charity begins at home, which if you work on the Internet is basically your office because the Internet is INESCAPABLE. Which means charity begins at the office — as it should, because building social responsibility into the workplace is an awesome and important thing.
So — with that in mind — our gang at Mediaite led a charge to collect donations for a company-wide drive to support one worthy organization, which our boss and founder Dan Abrams said he would match. Our charity of choice was Robin Hood's "Food For Good" campaign (a favorite here, and for which I was one of the co-chairs) and together a group of Mediaite staffers and contributors, as well as Abrams Research staffers with whom we share an office, chocolate and a happy camaraderie, stepped up and donated to make this holiday season a little bit better for hungry New Yorkers in need.
Our little office raised $500 — which Dan has matched. So! Robin Hood! You are now $1000 closer to your goal of feeding 120,000 people this holiday season.. There's still a week to close the gap before the end of the year — anyone out there feeling competitive? If everyone on the Mediaite 50 donates $50, that'll make a nice dent…Denton?
Other charitable news from HQ: Before Mediaite launched, I coordinated three surveys for Abrams Research which each had a bonus question for which the winner would "win" a donation to charity. Here they are:
For our Financial Media Survey, we asked our respondents to predict what the Dow Jones Industrial Average would be on June 30, 2009. The winner was CNN's Myron Kandel (the Dow closed at 8447 that day and his guess was 8411). Kandel won $500 to his charity of choice: Project Sunshine, organization that provides free educational, recreational, and social programs to children and their families affected by life-threatening illnesses or other serious medical challenges, in 100 major cities across the U.S. and internationally in Canada, China, Israel, Kenya and Puerto Rico. It has an army of more than 10,000 volunteers worldwide making a difference for over 60,000 children. Pretty wonderful. Thank you, Myron Kandel, for supporting them!
For our Social Media Survey during the 2009 Social Media Week, we asked our respondents to suggest an old media-new media "shotgun wedding" moving into the brave new future. The winner was MIT business school student Amanda Peyton, who suggested Reader's Digest + Digg + AARP, to provide a content-ranking system for an older demographic that is quickly getting up the technological curve but has been under-served by targeted social media thus far. Brilliant. In her name, Abrams Research donated $500 to Charity:Water, the beneficiary of Social Media Week's "Twestival."
For our Luxury Industry Survey, we asked our respondents to suggest the next big innovation for luxury brands, for a prize of $250 to their charity of choice. The winner was BuzzFeed's (and formerly Theory's) Amanda Dobbins, whose innovative suggestion was for Marc Jacobs to host after-hours "pseudo-underground dance parties" in his West Village store ("they could replace The Beatrice"). If he took her up on it he's too exclusive for us, because we've heard nothing, but that kind of creative thinking in creating a PR opportunity using existing resources (and adding to the social good!) is what keeps brands buzzy. Amanda's charity of choice was Harlem Children's Zone, which provides education, social-service and community-building programs to children and families in Harlem, and provides continued educational support to children from early education through to graduation, and even college. The goal is to end the cycle of generational poverty — and to give kids a fighting chance to do it by giving them essential skills and nurturing from the very start, and right on through as they grow and develop. It's a great charity so thank you, Amanda, for supporting it!
So — there you have it. 2009 hasn't exactly been an easy year financially — for donors or the charities that rely on them. It feels good to do our part to help, however we can. So — happy holidays to Robin Hood, Project Sunshine, Charity:Water and Harlem Children's Zone, and to all of you. Here's to a 2010 where everyone can afford to give a little more and need a little less.
Happy holidays!
Have a tip we should know? tips@mediaite.com