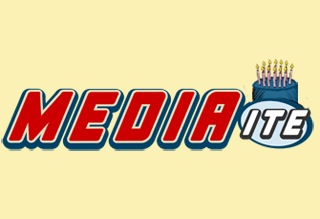 Happy Birthday Mediaite!
Three years ago today a group of five of us awoke after a grueling all-nighter in a conference room sorting through the entirety of our "power grid." We had spent countless hours determining who should be represented, and now we had to make sure this thing we had created actually worked. Most of us had been showing it to friends for days, receiving feedback to ensure that, at the least, we had the right people covered. Well, the algorithm worked as well as something like that can, and it certainly created the buzz and outrage that we had hoped for (after all, the media can rank anything, but when you rank the media itself, it's "stupid").
Within months, the attention quickly shifted away from the power grid and onto the content itself. Mediaite has now published 28,630 stories, been mentioned on just about every national cable news show, cited in every major publication and has become a part of the daily political zeitgeist. The millions of monthly visitors (including our syndicated content — that number has gotten as high as seven million for Mediaite alone) have vastly exceeded any expectations, including ours. And while I have regularly and deservedly thanked and celebrated our various editors and writers, I wanted to take this opportunity to give a shout-out to our readers and, in particular, those of you who take the time to comment.
A large part of keeping Mediaite such a vibrant place to visit is our active and prolific comment section. Unlike purely partisan sites, our commenters come from a variety of political persuasions and often take the time to duke it out here. Now, that is not to suggest that all of our comments are wise, productive or profound. We have our share of trolls…And if you don't know who you are, your fellow commenters certainly do. But on the whole, the fact that most stories on Mediaite get between 30 and 700 comments is a testament to your commitment to continuing the discussion, even when that involves informing the editors and writers (including, on occasion, me) how ignorant they are. Even then, we truly appreciate the time and effort all of you put into those comments and commentaries. So I hope that you can celebrate this milestone with us because you have been instrumental in getting us to where we are today.
l'll let you take it away from here.
Have a tip we should know? tips@mediaite.com