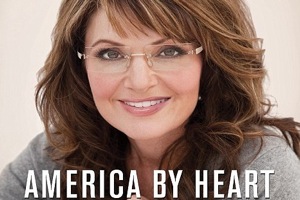 Sarah Palin's new book, America By Heart, is set for release next Tuesday. Savvy internet readers, however, have already gotten a taste for what's in store thanks to Gawker, which scrounged up some leaked pages and posted them last Tuesday. While the excerpts didn't tell us anything we didn't know about Palin already– she is proud of her family, supports the Tea Party– the book's publisher, Harper Collins, is not happy and has sent their lawyers after Gawker for leaking the text.
According to the AP, the complaint was filed on Friday for copyright infringement:
The legal complaint was filed Friday in federal court in Manhattan, said a spokeswoman for HarperCollins Publishers. The filing came two days after Gawker published images of 21 of the book's pages and its dedication page. In response, Palin tweeted, "Isn't that illegal?"

Her publisher contends it is. The lawsuit asks that Gawker be banned from what it terms "further copyright infringement" and that Gawker deliver the source material to the publisher so it can be destroyed. HarperCollins is also seeking financial damages.
Gawker replied in predictable style, mocking Palin's Twitter account, welcoming her to the site, and suggesting she "read the law." Oh, and they have also not removed the leaked pages, though by Tuesday the excerpts will be legally available. That said, Gawker was not the first website to publish the excerpts (that honor goes to Alaska-based blog "Palingates"), but it is certainly the most widely-read of the blogs publishing to have done so.
(UPDATE)
NEW YORK — A federal judge on Saturday ordered Gawker Media to pull leaked pages of Sarah Palin's forthcoming book "America by Heart: Reflections on Family, Faith and Flag" from its blog.
The injunction prohibits Gawker from "continuing to distribute, publish or otherwise transmit pages from the book" pending a hearing on Nov. 30.
Read the Judge's Ruling below:
Gawker Preliminary Injunction
Have a tip we should know? [email protected]