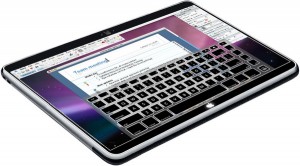 The Wall Street Journal reported that HarperCollins is in talks with Apple to bring e-books to its much-hyped Tablet, set to be revealed (fingers crossed) on January 27th.
Since HarperCollins will set the price point for Tablet ebooks, whereas Amazon's Kindle currently sets the price at just $9.99, the monetary implications, clearly, are huge.
But even more interesting? The ebooks "would have added features." This implies video. And color. And pictures. And social media. In books!
If this is the case, HarperCollins and Apple will elevate the digital game to a whole new level. Though online magazines like Lonny and technology like the SkiffReader (SkiffReader:magazines::Kindle:books) currently play with digital pictures and formatting, anything beyond text is generally foreign territory for eReaders.
All signs at HarperCollins suggest the rumors are true; the publishing house just released memos detailing a "digital restructuring" that resulted in the formation of two new groups: the Digital Technology Services Group and HarperCollins Digital.
According to VP of Operations Larry Nevins, the DTS "is charged with providing strategic technology solutions across HarperCollins and supporting our global digital initiatives. The team will work with Chief Digital Officer Charlie Redmayne to develop new technologies that align with our digital strategy, and will continue to partner with Corporate IT to address the ever-changing digital technology needs of business."
Such technology would have stellar implications for textbooks and business manuals. And for fiction, it would at least hold some very interesting potential. Could we have film trailers on book jackets? Sketches of the characters? End-of-book author interviews explaining their perspectives and choices? Would this ruin reading forever?
No one really knows. But perhaps, with the release of the Apple Tablet, we'll start to have an idea.
Have a tip we should know? tips@mediaite.com