Harry Reid Decides Newtown Families Don't Deserve A Vote On Assault Weapons Ban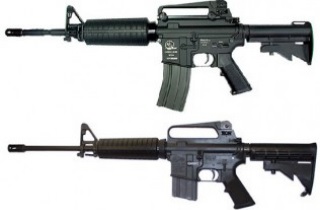 In his State of the Union Address last month, President Obama passionately told members of Congress that the victims and families touched by gun violence "deserve a vote" on the measures to reduce gun violence that emerged from his post-Newtown task force. Apparently, not everyone agrees. On Tuesday, assault weapons ban author Sen. Dianne Feinstein (D-CA) said that Senate Majority Leader Harry Reid has decided to drop her measure from the Senate's bill. From MSNBC's First Read:
The assault weapons ban won't be included in major gun legislation set to take shape this week — all but guaranteeing it won't pass Congress.

The ban hasn't been expected to pass, but the way Democratic leaders have decided to handle Sen. Dianne Feinstein's proposal means that she might see a dozen or more Democrats vote against the ban.

Feinstein said she's "disappointed" that it's turned out this way. She said that Senate Majority Leader Harry Reid told her about his decision at a meeting Monday afternoon.
The assault weapons ban, which includes a ban on high-capacity magazines that would have demonstrably saved lives in recent mass shootings, will instead be voted on as an amendment to the larger bill, if that amendment isn't blocked.
Reid's decision will put President Obama's resolve to the test. The President has consistently promised to push for the assault weapons ban, even as Harry Reid has consistently tried to avoid ever having to vote on it. This is where the rubber meets the road. President Obama obviously can't force Harry Reid to include the assault weapons ban, but the temperature of his response will be telling.
Have a tip we should know? tips@mediaite.com