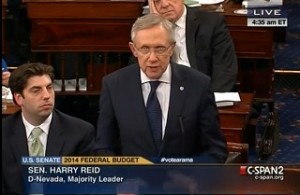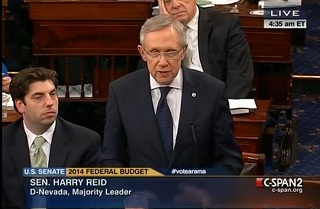 Even with House Republicans switching tactics from defunding Obamacare to delaying it for another year, Democrats aren't exactly going to leap at the chance to get behind it now. Case in point, Senate Majority Leader Harry Reid put out a statement today saying he and President Obama have already committed to rejecting any kind of Obamacare delay, so the new tactic by House Republicans is just "pointless."
Even going back to July, Obama threatened to veto any Republican bills to delay the employer and individual mandates of the health care law, so it is very unlikely this new proposal from House Republicans would gain any traction.
Reid made it clear that the Senate already did its job by passing the clean continuing resolution, and now it's up to the House to vote on it or try other tactics that Reid said would bring about a government shutdown.
Here's his statement in full:
Today's vote by House Republicans is pointless. As I have said repeatedly, the Senate will reject any Republican attempt to force changes to the Affordable Care Act through a mandatory government funding bill or the debt ceiling. Furthermore, President Obama has stated that he would veto such measures if they ever reached his desk.

To be absolutely clear, the Senate will reject both the one-year delay of the Affordable Care Act and the repeal of the medical device tax. After weeks of futile political games from Republicans, we are still at square one: Republicans must decide whether to pass the Senate's clean CR, or force a Republican government shutdown.

Senate Democrats have shown that we are willing to debate and vote on a wide range of issues, including efforts to improve the Affordable Care Act. We continue to be willing to debate these issues in a calm and rational atmosphere. But the American people will not be extorted by Tea Party anarchists.
[photo via screengrab]
— —
Follow Josh Feldman on Twitter: @feldmaniac
Have a tip we should know? tips@mediaite.com
Josh Feldman - Senior Editor