Harry Reid Unleashes on 'Billion-Dollar Loser' Trump Over Income Taxes: a 'Racist, Incompetent Failure'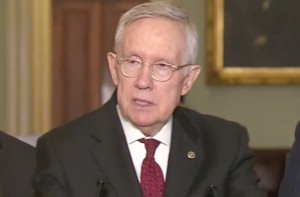 Senate Minority Leader Harry Reid had some things to say about Donald Trump's potential manipulation of tax loopholes, the nicest of which was that the mogul is a "racist, incompetent failure."
The Nevada Democrat held nothing back today as he released a statement declaring Trump an incompetent businessman for losing nearly $1 billion dollars in only one year.
"Trump is a billion-dollar loser who won't release his taxes because they'll expose him as a spoiled, rich brat who lost the millions he inherited from his father. Despite losing a billion dollars, Trump wants to reward himself with more tax breaks on inherited wealth while stiffing middle-class families who earn their paychecks with hard work."
Reid proceeded to blast Trump's backers in Congress, while insinuating that the mogul must have something to hide if he still won't release his tax returns to the public.
"Trump is over-leveraged and deeply indebted to someone, but until he releases his taxes we won't know who," Reid said. "Senate Republicans have put party so far ahead of country, they've endorsed a racist, incompetent failure who managed to lose a billion dollars in a boom year."
Reid also used his statement to bring up his support for the Presidential Tax Transparency Act, a proposal that would make it mandatory for presidential candidates to disclose their most recent returns to the Federal Election Commission (FEC). As of yet, Trump continues to hold out on his tax returns despite being routinely attacked over them.
[Image via screengrab]
— —
>> Follow Ken Meyer (@KenMeyer91) on Twitter
Have a tip we should know? tips@mediaite.com