'Can You Answer the Question?': CNN Anchor Tears into Trump Advisor Over Tax Report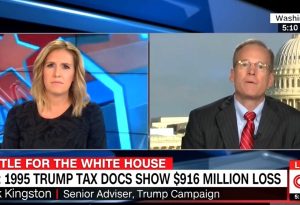 Poppy Harlow was not happy with former congressman Jack Kingston today, locking horns with him on Sunday as he attempted to defend Donald Trump for reportedly not paying federal income taxes.
The CNN anchor dove into Kingston right away, asking how Trump can rail against America's tax code and infrastructure when he might not have contributed to the nation's upkeep for 18 years.
"The government is facing crippling debt. He complains about the roads and the airports, now we see this. How do you square the two," Harlow asked.
Kingston spun away by citing Trump's capacity as a job creator, but when he he tried to turn towards an attack on Hillary Clinton, Harlow reminded him that she has released her tax returns where Trump has not. Harlow also took issue with Kingston for writing off The New York Times' story on Trump's old taxes, when it was they who broke Clinton's private server scandal.
Harlow followed by noting that Trump frequently bases his platform on his business successes, and yet, he might've manipulated tax law after he lost nearly a billion dollars in a single year. She held Kingston to the heat by reminding him that a major aspect of Trump's financial situation will remain unknown until he makes them public.
After Kingston argued that Trump's financial disclosure forms give sufficient insight into Trump's situation, Harlow brought up an old tweet of Trump's where he criticized President Obama for not paying enough in taxes.
@BarackObama who wants to raise all our taxes, only pays 20.5% on $790k salary. http://t.co/bqF26mQf Do as I say not as I do.

— Donald J. Trump (@realDonaldTrump) April 13, 2012
"'Do as I say, not as I do.'" Harlow quoted. "If this is indeed what Trump does, not paying federal tax for two decades, should other Americans do that?"
Kingston tried to deflect again, but Harlow latched on and asked "can you answer that question, because you're an advisor to Trump's camp."
Watch above via CNN, and see whether Kingston ever did answer the question.
[Image via screengrab]
— —
>> Follow Ken Meyer (@KenMeyer91) on Twitter
Have a tip we should know? tips@mediaite.com