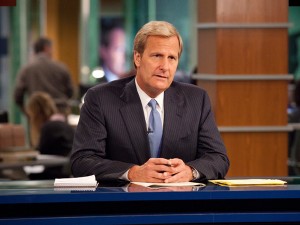 The entertainment industry is adept at putting the best possible spin on anything, even when no one really cares for the product being sold. The Newsroom, Aaron Sorkin's idealized version of how cable news should be run, has not been doing well with critics. Metacritic currently gives the HBO show a 57 out of 100. So, of course, HBO wants to promote the show by highlighting the most positive reviews. But in a two-page ad in the Hollywood Reporter last week, three of the supposedly positive reviews were blurbs from reviewers that had otherwise panned the show.
RELATED: The Newsroom Recap: There Was A Stripper Dressed As Hosni Mubarak
Forbes' Jeff Bervocivi highlights blurbs HBO took from three reviews of the show by The New York Times, Time, and Salon.
Times TV critical Alessandra Stanley did write those words. But she also wrote, "[A]t its worst, the show chokes on its own sanctimony," said it " suffers from the same flaw that it decries on real cable shows on MSNBC or Fox News" and called the show's central structural conceit "probably a mistake."

Time's James Poniewozik, summarizing his views on "The Newsroom" for non-subscribers, flatly declared, "I was not a fan." Yet the ad makes it sound like he was, burbling, "The pacing is electric…captures the excitement."

Salon's Willa Paskin is quoted in the ad calling "The Newsroom" "captivating, riveting, rousing." Here's what she actually wrote: "The results are a captivating, riveting, rousing, condescending, smug, infuriating mixture, a potent potion that advertises itself as intelligence-enhancing but is actually just crazy-making."
In addition to the above reviews, HBO also quoted Paste Magazine as calling the show "remarkable" and intelligent." The review in question starts out that way, but goes on to say that "early returns on The Newsroom are disappointing," that the female characters border on "impossible sexism," and concludes that Sorkin's show is basically "very fine actors reading exquisitely structured lines" as opposed to having "relatable characters."
As Bercovici puts it, studios "have been doing this" for years, and there are plenty of legitimately positive reviews in the ad crediting the writing and acting in the show. But as Poniewozik put it, "Ironic way to promote a journalism drama."
h/t Forbes
—–
Follow Josh Feldman on Twitter: @feldmaniac
Have a tip we should know? tips@mediaite.com
Josh Feldman - Senior Editor