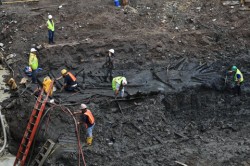 I'm pretty sure this is the strangest and best story you'll read today. This week workers at the World Trade Center site uncovered the remnants of an 18th century ship. Yes.
From the New York Times City Room blog:
On Tuesday morning, workers excavating the site of the underground vehicle security center for the future World Trade Center hit a row of sturdy, upright wood timbers, regularly spaced, sticking out of a briny gray muck flecked with oyster shells.

Obviously, these were more than just remnants of the wooden cribbing used in the late 18th and early 19th centuries to extend the shoreline of Manhattan Island ever farther into the Hudson River. (Lower Manhattan real estate was a precious commodity even then.)

By Wednesday, the outlines made it plain: a 30-foot length of a wood-hulled vessel had been discovered about 20 to 30 feet below street level on the World Trade Center site, the first such large-scale archaeological find along the Manhattan waterfront since 1982, when an 18th-century cargo ship came to light at 175 Water Street.

The area under excavation, between Liberty and Cedar Streets, had not been dug out for the original trade center. The vessel, presumably dating from the mid- to late 1700s, was evidently undisturbed more than 200 years.
Sounds like the epilogue for some time travel Hollywood blockbuster, no? No one is yet sure how the ship came to be there, though this 'only in New York' line might offer some clues: "Archaeologists and officials hurried to the site, not only because of the magnitude of the discovery but because construction work could not be interrupted and because the timber, no longer safe in its cocoon of ooze, began deteriorating as soon as it was exposed to air." Who knows, perhaps the a similar construction schedule befell the original ship two centuries ago. You can see a slideshow of pictures of the ship here.
Have a tip we should know? tips@mediaite.com