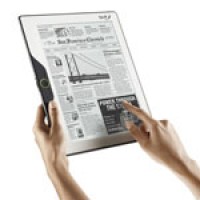 Magazine publishers have historically focused on developing brands, content and a strong point-of-view, that, ideally, lead to robust relationships with advertisers. The actual printing and distribution of the magazines are typically outsourced through giant publishing companies. Well since this model is seeming increasingly less viable, publishers are now building the devices to carry their content (also known as tablets or "e-readers.")
Who is the latest publisher to unveil a new gadget in hopes of saving their business model? Ladies and gentlemen, I give you the Skiff, brought to you by Hearst!
Reporting for MediaWeek, Lucia Moses writes:
Hearst Corp. revealed its first image and a few details about its Skiff Reader, the e-reader device for digital newspapers and magazines that it plans to preview at this week's Consumer Electronics Show in Las Vegas.

The Skiff device is one of a number of wireless reading devices and services that are expected to be shown at CES. Rumor has it that the most anticipated of them, the Apple tablet, will be announced Jan. 24.

At one-quarter of an inch thick, the Skiff reader is the thinnest e-reader that's been announced to date, Skiff claims. It measures 11.5 inches diagonally, making it bigger than the popular Amazon Kindle, which measures 9.7 inches, and Plastic Logic's 11-inch screen. Presumably, it also makes an attractive option for newspaper and magazine publishers that are looking to create an interactive and dynamic representation of their publications on e-readers.
The Skiff will also be the first product on the market to utilize a new "metal foil" technology developed by LG, which CNET summarizes as "a next-generation e-paper display that's based on a thin, flexible sheet of stainless-steel foil."
There are varying opinions on the e-Readers, and the likelihood of them saving an industry that is in slow and steady decline. It is possible that the Hearst product could be a hit, perhaps even the industry standard. It's also possible that I suddenly develop a crafty knuckleball and find myself pitching for the New York Yankees this season.
What's far more likely, and the reasoning behind the Skiff, and other publisher-backed e-Reader products, is it will give them far more leverage in negotiating with Amazon (whose Kindle is way ahead) and Apple (whose looming tablet has grown to Messianic proportions without much solid information.)
If the millions of research and development spent on launching the Skiff leads Hearst to a more significant cut of an eventual revenue share, then it will have served its purpose.
Have a tip we should know? tips@mediaite.com