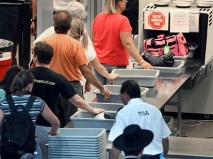 Well if the real goal of the 'underwear bomber' was to make international travel as unpleasant as humanly possible he may have succeeded! And if there is a prize for overreaction to the attempted Christmas day attack Canada is definitely in the running. Two days ago the The Globe and Mail, Canada's national newspaper, reported (and Drudge happily picked up) that Canadian airlines had banned all books and magazines purchased pre-customs on all flights to the U.S. "dumbfounding" both publishers and passengers alike. For good reason! Though no doubt, magazine publishers were quietly rejoicing at the idea that fliers would be forced to shell out for their wares. Turns out however, it was all a misunderstanding, in the very bureaucratic sense of the word. Canadians will not be required to give up literacy for security!
A spokesman for the Canadian Air Transport Security Authority said today that "books and magazines were always allowed and still are on U.S.-bound planes." Books and magazines, however, weren't included in a list of 13 "items" that Transport Canada approved Dec. 28 for carry-on purposes.

The failure to include books and magazines with canes, laptop computers, small purses and cameras on the approved list led many to conclude that reading materials purchased pre-flight were banned as part of a security clamp-down in the wake of a failed terrorist attempt to down a Detroit-bound passenger plane Dec. 25.
As it is, Canada has applied some of the strictest regulations to flights entering the U.S. perhaps keen to buttress the image that Canada's borders are secure. Either that, or they are looking to funnel some business to Greyhound Canada, which is starting to look ever more appealing in light of all these measures.
Have a tip we should know? tips@mediaite.com