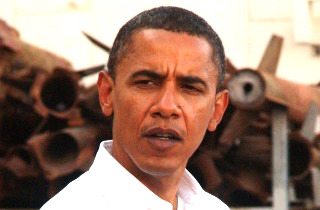 David Axelrod revealed the not-so-surprising news today that President Obama downplayed his strong support of gay marriage to win in 2008, so perhaps it would be worth examining the president's public statements on the matter during the past few years.
First, back in 2004, Obama had said during his Senate campaign that he is "not a supporter of gay marriage."
Just days before the 2008 presidential election, Obama took questions from the MTV audience about a wide range of issues. On gay marriage, he said, "I believe marriage is between a man and a woman. I am not in favor of gay marriage."
That being said, he did publicly support civil unions and federal rights for LGBT couples in his first year in office. But again, throughout his first term, Obama kept talking about his personal evolution on the issue.
In October 2010, while speaking with liberal bloggers, Obama said, "I have been to this point unwilling to sign on to same-sex marriage primarily because of my understandings of the traditional definitions of marriage. But I also think you're right that attitudes evolve, including mine."
He said it's an issue he "wrestles with" and acknowledged the trend towards equality is an inevitable one.
A few months later, when the Obama administration said it would no longer defend the Defense of Marriage Act in court, then-White House Press Secretary Jay Carney said Obama's personally "grappling" with the gay marriage issue. And then things got complicated.
Back in 1996, Obama had filled out a questionnaire in which he pretty clearly said he supports same-sex marriages. So when asked about this in 2011, then-White House Communications Director Dan Pfieffer actually argued that Obama didn't fill out that questionnaire, someone else did. He clarified that Obama is against gay marriage, but he's "evolving" on the matter. And just as a coda to that whole thing, Obama actually did fill out that 1996 questionnaire.
Later that year, in October 2011, Obama told George Stephanopoulos he's still evolving and believes in certain rights for gay couples. He didn't yet want to go all the way.
Finally, we come to May 2012, when––just days after Joe Biden jumped the gun––Obama finally completed his "evolution" and came out as an unequivocal supporter of gay marriage. Obama said he hesitated because he thought civil unions were sufficient.
Oh, and he also claimed he made this decision before Biden spoke up. Yeah, with all the cynicism surrounding the rest of this, you can be cynical about that one too.
[image via Shutterstock]
— —
Follow Josh Feldman on Twitter: @feldmaniac
Have a tip we should know? tips@mediaite.com
Josh Feldman - Senior Editor