Here's the Stock Photo That the Cruz Campaign Used For Its Rubio-Obama Botch Job
Here's the Photo That the Cruz Campaign Used For Its Rubio-Obama Botch Job
After the Ted Cruz campaign released an image on its website that shows Florida Senator Marco Rubio and President Barack Obama enthusiastically shaking hands, the Rubio campaign immediately cried foul.
"This is how phony and deceitful the Cruz campaign has become," Rubio advisor Todd Harris told reporters in South Carolina Thursday morning.
The image is overlaid with the words "The Rubio-Obama Trade Pact", referencing the Florida Senator's support for the Trans-Pacific Partnership.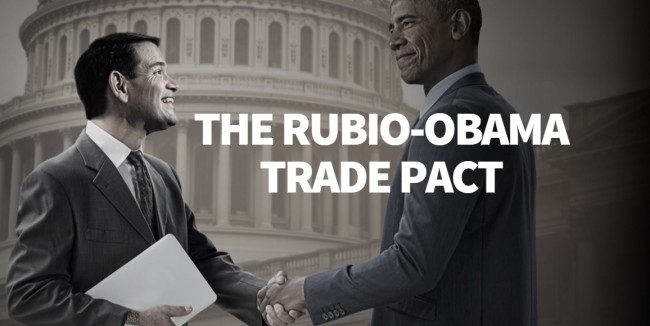 Shortly after the accusation, the Cruz campaign appeared to refute the claim, according to this Tweet from CNN's Teddy Schleifer:
Cruz campaign spox on this: "I am confident that our campaign would not use a photo that is not authentic." https://t.co/VjsqV0kFKy

— Teddy Schleifer (@teddyschleifer) February 18, 2016
Then, one Twitter user revealed that he may have spotted the original stock photo that was manipulated (and reversed of course, because who shakes with their left hands?). The stock photo in question shows a taller black man shaking hands with a shoter man, who is clearly clutching a laptop with a fat square-shaped watch:
I did a quick google search. Is this the stock photo they used? @rickwtyler pic.twitter.com/srY2U0zqtR

— Jimmy (@JimmyPrinceton) February 18, 2016
Here are the two images side-by-side — you be the judge: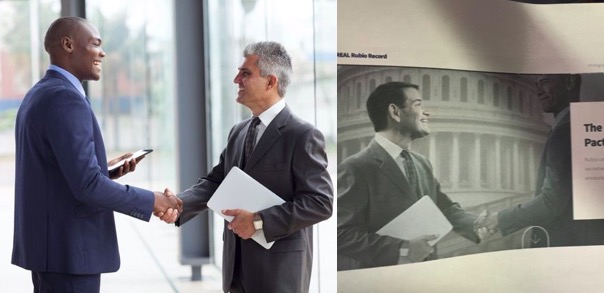 Cruz campaign spokesman Rick Tyler has responded in a statement to CNN: "If Rubio has a better picture of him shaking hands with Barack Obama I'm happy to swap it out… Two days before presidential primary in South Carolina, they want to talk about a picture we used."
[images via Twitter]
Have a tip we should know? tips@mediaite.com